As V Parbati, 72, a widow from Podampetta village in Ganjam district of Odisha, stares speechlessly at the pile of bricks that once made up the four walls of her home, she can't shake off the overwhelming sense of deja vu that engulfs her.
The recent Cyclone Phailin that unleashed its wrath on the Odisha coastline . which includes her district of Ganjam . may have spared her life but the powerful winds have blown away her prospects of a care-free existence. Even now as she closes her eyes she can hear the sound of the crashing winds and pelting rain. Despite having witnessed and survived two major cyclones that have hit the state in the last 15 years, she knows she has to rebuild her life from scratch all over again.
The devastation this time strongly reminded her of the deadly storm that had destroyed her world 14 years ago. In the super cyclone of 1999 that killed more than 10,000 people, Parbati had lost half the members of her family. With tears in her eyes, she sits down on the rubble today and shares her story: "My son used to work at a prawn farm with one of my brothers-in-law in the port town of Paradip. His wife, who was expecting a child, and my two-year-old granddaughter were living with him. At the stroke of midnight on October 17, 1999, the cyclone swept through Ganjam and our house was completely demolished. It took my husband and me three days to get in touch with my son and we went to be with him."
"But it was as if bad luck was following us. Out of nowhere, on October 29, an even stronger gale hit Paradip and tidal waves invaded our small locality. For safety, we tied ourselves to each other with ropes so that no one would get washed away or drift apart," recalled the elderly woman.
She did not know when she had fallen unconscious with exhaustion but when she revived, she did not find any of her family members around. She searched for them for eight days with the help of some local activists before she got news that her son, daughter-in-law and granddaughter as well as her brother-in-law's family were all dead.
One million people have been forced to seek refuge in shelters after Cyclone Phailin struck Odisha. Though it had weakened significantly after making landfall in Gopalpur, it ended up killing at least 22 people and leaving a trail of destruction along the coast.


• An unequal disaster
• Rising risks along the coast

Parbati continues her narrative, "My husband was still missing but I had no choice but to return to our home at Podampetta. Shattered, I did not wish to live. Somehow I survived. Then two months later, someone brought news that my husband was spotted at the highway. I rushed with the sarpanch of our village and brought him back. But he had lost his mental balance by then and was unable to cope with the ordeal. Four years later, he too passed away. Since then I am alone, trying to carry the burden of my life." Tired and traumatised, she admits that she desperately needs help to cope with the catastrophe.
In the fishing village of Aryapalli near Gopalpur, about 190 kilometres south of the eastern city of Bhubaneswar, Odisha's state capital, lives Nagamma, 46. As she salvages some of her belongings from her broken down home, she is desperately trying to get over the fear that Cyclone Phailin has put in her heart. "It was 12 October. We all knew the storm was coming and so had made our way to a primary school seven kilometres away to take shelter. At about 9 pm, the wind started roaring and our children stared crying. A little after 10.30 pm, the wind slowed down so we thought it may be subsiding."
"But we were wrong. Within a few minutes, the roar began again with renewed vigour, pummeling everything in its path. Asbestos sheets were torn off like paper, trees fell down, electric poles toppled over, window panes and even vehicles were flying like projectiles. We all prayed for our safety," she says, the trauma of that night writ large on her face.
When Nagamma and others went back to their neighbourhood the next day, they found nothing. Their homes had been razed to the ground and the fishing boats the men used were reduced to an assortment of wooden planks. Rues the woman, "Since then, my husband hasn't gone to the sea for fishing. We have no money to buy rice and dal and so it has been a tough time feeding our three small children. The government has been providing a small amount of boiled rice and tamarind, but it is sufficient only for one meal."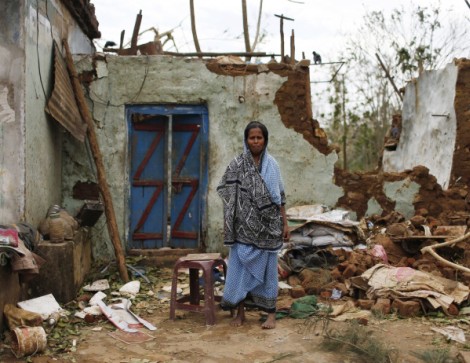 In the fishing village of Aryapalli near Gopalpur, lives Nagamma.
(Pic Credit: Sarada Lahangir\WFS)
Across the coastline, there are several Parbatis and Nagammas, who have not slept for days wondering how to get back to some semblance of a normal life. Sources of livelihood have disappeared. G. Murali and his wife, G Maya, from the fishermen community of Sana Nolia Nuagaon near Gopalpur, are in tears as they inform that the warehouse that they used to store the fish has been totally destroyed.
Says Murali, "I had built this structure with my own hands and money. The cyclone has torn it apart. My boat is also missing and a stock of fish worth over Rs 50,000 that was kept here has been destroyed." His wife adds, "In our wildest dreams, we had never thought that we would have to face a second severe cyclone in our lifetimes. There is no home, no rice to eat, no boat, no livelihood. I wonder if it would have been better if the cyclone had killed us."
One million people have been forced to seek refuge in shelters after Cyclone Phailin struck Odisha. Though it had weakened significantly after making a landfall in Gopalpur as a Category 4 storm, with sustained winds of up to 210 kilometres per hour (131 miles per hour), according to Indian meteorologists, it ended up killing at least 22 people and leaving a trail of destruction along the coast.
According to official reports, the homes of around 2.34 lakh people have been damaged, while more than two lakh hectares of farmland are awash with saline water in Ganjam alone and have become unfit for cultivation. If the storm had threatened lives, its tragic aftermath is now threatening a way of life and any sense of well-being. The road to recovery will be a long and hard one to traverse. The community here would need all the help they can get.