Pangolin are solitary, slow-moving, nocturnal mammals that feed on ants and termites, and also their eggs and larvae. They are toothless, and use their long tongues - up to 25.5 centimetres - to reach their prey. When they sense a predator, they generally curl up into a tight ball and secrete a strong odour to repel the threat. They can live up to 20 years in their natural habitat. They are the only mammals with large keratin scales covering their skin; this has made them distinct but has also brought them to the attention of poachers and smugglers.
Of the eight species of pangolins found globally, India is home to two - the Indian pangolin (Manis crassicaudata) and the Chinese pangolin (Manis pentadactyla). The Indian pangolin can weigh up to 35 kilograms, and its body length is typically between 45 and 75 centimetres. Their tails, between 33 and 45 centimetres, make them even bigger. This species is considered endangered, and although its habitat is widely distributed throughout the country except for the Himalayan region, its numbers are diminishing in many places. The Chinese pangolin is considered 'critically endangered', and is found only near India's borders with China and in the northeastern states.
Both of these species are listed in Schedule I of the Wildlife Protection Act, 1972. Hunting, trade or any other form of capture and use of these species or their body parts and derivatives is banned. Pangolins are the most trafficked animals in the world, and feature in the Red List of endangered species of the International Union For Conservation of Nature. They are mainly poached for their meat and scales, and often illegally traded across national borders, according to the IUCN Pangolin Specialist Group. China and Vietnam are the major destination countries since pangolin scales are widely used in traditional medicine systems to cure certain ailments, although there is no such scientific evidence of its effectiveness. Pangolins are also eaten as delicacies, their scales are used to make luxury goods, and they are also sometimes kept as pets. With such a range of uses, the illegal global pangolin trade is thriving.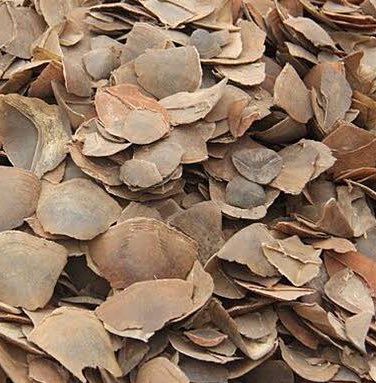 Picture: Pangolins are prized by poachers for their scales.
India is a signatory to the Convention of International Trade in Endangered Species of Wild Fauna and Flora (CITES). The convention prohibits international commercial trade of pangolin worldwide. Despite such agreements and protective listings, around 6000 pangolins were poached across India between 2009 and 2017, according to a study published by TRAFFIC in 2018. TRAFFIC is a non-governmental organisation working globally to ensure that wildlife trade is not a threat to the conservation of nature. In the last 10 years, the majority of the seizures of poached pangolins were reported in Assam, Mizoram, Karnataka, Madhya Pradesh, Odisha and Tamil Nadu, the TRAFFIC-study reported.
In India, there are two main factors responsible for pangolin smuggling. The animals are sometimes hunted for domestic use as food or in rituals. Many poachers and smugglers are also attracted by the higher price in international unorganised markets, as demand grows. Between 2015 and 2020, Odisha figured among the top six states in pangolin smuggling in India, according to the Wildlife Crime Control Bureau, a wing of the Union Environment and Forest Department. Other states that reported a substantial number of illegal pangolin trade include Madhya Pradesh, Maharashtra, Sikkim and Uttarakhand.
Illegal trade in Odisha
The Simlipal National Park (SNP) in Odisha's Mayurbhanj district is home to about 55 species of mammals, 304 species of birds, 60 species of reptiles, 21 species of frogs, 38 species of fish and 164 species of butterflies. The SNP is spread in an area of more than 2750 square km of the Chotanagpur plateau. Due to its rich flora and fauna diversity, SNP is recognised as a biosphere reserve in India by the United Nations Educational, Scientific and Cultural Organisations.
Recently, amidst the pandemic induced lockdowns and shutdowns, there has been rising cases of hunting, poaching and wildlife smuggling in SNP and neighbouring districts of Mayurbhanj. The population of pangolin inside the park is on the wane with increasing numbers of poaching cases being reported. Conservationists working in the area often allege that the government has not taken adequate measures to conserve this endangered species. And in the absence of regular monitoring by the forest guards during lockdowns and shutdowns, hunters and traffickers have found a golden opportunity to capture pangolins.
In June this year, the special task force (STF) of the wildlife crime investigation department of Odisha had seized 4.82 kg of pangolin scales in Mayurbhanj. After just one month, in July, the Wildlife Crime Control Bureau of Jabalpur in collaboration with a joint team of the Odisha forest department confiscated 14.2 kg of pangolin scales in Dhenkanal district. "This is one of biggest-ever seizures of pangolin scales in Odisha," said Prakash Chand Goginen, Divisional Forest Officer, Dhenkanal. "Our team pretended as customers, stroke a deal with the smugglers and eventually arrested the culprits," he added.
Similarly, in August, one live pangolin and over 3 kg of pangolin scales were recovered from Balasore district. Three poachers were arrested and the pangolin was handed over to the divisional forest officer of Chandaka reserve forest in Khurda district of Odisha.
More active interventions needed
The pangolin trade in Odisha continues unabated due to the lack of wildlife law enforcement. "Very few people have been convicted in the wildlife crime," said Biswajit Mohanty, secretary, Wildlife Society Odisha, adding this happens because the forest officials hardly put committed effort to gather evidence on the cases. In order to steer conservation initiatives and protect endangered species, it is extremely important to ascertain their population, distribution, breeding and ecological behaviour. Unfortunately, neither Odisha nor any other states in the country estimate the population of pangolin. "This is a serious problem," says Santosh Mohanty, Baripada-based independent conservationist working in the SNP. "We have been asking for a pangolin survey but no result yet," he underlines.
"Traffickers are using social media platforms," says Sasmita Lenka, Bhubaneswar-based Deputy Conservator of Forests. Technology is facilitating wildlife trade as it is connecting middlemen and buyers with the poachers, who are mostly from remote forest areas, she elaborated. In 2020, Lenka became the first Indian female forest officer to receive UN's Asia Environmental Enforcement Award for 'Gender Leadership and Impact', for her work busting pangolin smuggling rackets in Odisha. Last year when she was working as a divisional forest officer in Athgarh in Cuttack district, she rescued five pangolins, including a dead one and arrested 30 pangolin traffickers.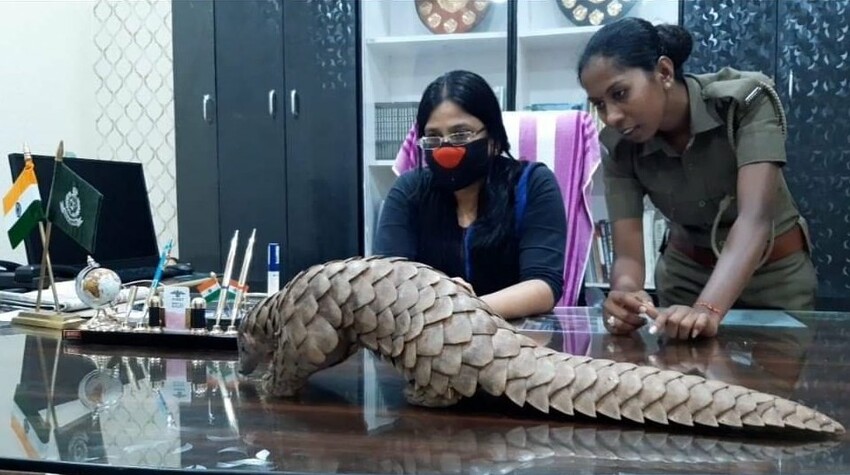 Sasmita Lenka (in blue) with a rescued pangolin.
Photo Credit: Ashish Senapati.

To counter the clandestine network of traffickers, Lenka suggests that a lot of different people have to work together, including locals in the areas that the animals inhabit. "Ensuring active participation of indigenous communities is crucial. Also, engagement with other stakeholders like government departments, researchers, civil society and media agencies is equally important to save the pangolin from extinction," she says.
Some pro-active measures
Pangolins rescued from several places of Odisha are generally brought to Nandankanan at Bhubaneswar - the first zoo in the country to promote ex-situ breeding of this species. "We have 26 pangolins out of which eight are males, 17 females and a baby pangolin," says Amulya Kumar Parida, Assistant Conservator of Forests, Nandankanan zoo.
To scale up research on pangolins after their release from the captive breeding centre into forests, the state government is now planning to deploy satellite transmitters on them. "This will help us to comprehensively study their behaviour in the wild," says Rajesh Mohapatra, zoo biologist and centre-in-charge, Nandankanan, who has studied the pangolin for his PhD, adding, "we are working hard to shed light on the poorly-understood pangolin's biology, ecology and breeding pattern."
Wildlife activists working in Odisha have been demanding comprehensive research studies on pangolins in their natural habitat and ensure strict law enforcement. "We need to immediately curb pangolin smuggling before it is too late," says Machua Ho, an independent environmentalist working with the forest department and indigenous communities to conserve endangered species in SNP.