It is estimated that global demand for millets will soar to $12 billion by 2025, as the world looks at healthier food grains. India is one of the largest producers of millets, with an annual output of about 12 million tonnes, and could benefit from this trend. Also, most Indian farmers hold only small parcels of land, and several studies have shown millets' potential to address the livelihood security of small-scale farmers, in addition to hunger and nutrition. Recent data, however, shows that this is not happening yet. India dropped to the fifth position in global trade in millets, as its export - mostly to Nepal, UAE and Saudi Arabia - fell to $26.73 million in 2020 from $30.82 million in 2019.
Millets are hardy crops that can thrive in varying agro-climate regions, and can withstand extreme temperatures and droughts. Some varieties of pearl millets survive at temperatures up to 46 degrees Celsius. Most importantly, these crops also help mitigate the effects of climate change through their lower carbon footprint - 3,218 kg equivalent of carbon dioxide per hectare, as compared to wheat and rice, with 3,968 kg and 3,401 kg, respectively. Millets also require less water than rice, sugarcane and wheat. In comparison to maize, millets use 40 per cent less energy in processing and also offer a significant cost advantage as feedstock for bio-ethanol production.
Picture: Finger millets generally mature in 120-135 days. (Courtesy: Odisha Millets Mission).
According to an analysis by the Food and Agriculture Organization, the area under production of milets steadily dropped at a 2.25 per cent compounded annual growth rate (CAGR) between 2000 and 2019. The productivity grew at a little over 2 per cent in this period, and as a result the production of millets remained more or less unchanged. The consumption data too is not encouraging; despite their rich nutrient content and climate-resilient qualities, consumers have rejected millets. Between 1962 and 2010, India's per capita consumption of millets fell significantly, from 32.9 kg to 4.2 kg per year, according to a report published by the International Crops Research Institute for the Semi-Arid Tropics in 2021.
What went wrong?
Before the green revolution in the 1960s, millets were a major portion of cultivated grains. During 1952-54, millets constituted 20 per cent of national food grain production. But gradually the demand has shifted to paddy and wheat as high-yielding and high-input utilisation crops to meet the demand of national food security. As the population grew, total consumption of millets remained unchanged, which explains the big drop in per capita numbers. By 2018, millets accounted for only 6 per cent of the grains grown in the country.
"The availability of cheap rice and wheat under the public distribution system (PDS) is reducing the production and consumption of millets," said Tapas Chandra Roy, a certified farm advisor on millets, who is an assistant agriculture officer in Odisha's Koraput district. This shift away from traditional diets which are highly nutritious is aggravating malnutrition, especially among tribal communities, he pointed out. Srinibas Das, who works as a Block Project Manager with the Odisha Livelihood Mission in Mayurbhanj district says, "Lack of production support and institutional assistance for providing processing facilities are major barriers for millet growers."
In Jharkhand's Gumla district, Adivasi farmers have been cultivating pearl, ragi and sorghum millets for years. "We cultivate these millets for our consumption only," said Shorai Oraon, a Adivasi farmer in Gumla. "The price of millets is very low. They are not remunerative. Therefore, we have reduced the are under cultivation of these crops," he added. In southern Jharkhand - Khunti, Gumla, Simdega, Lohardaga, East and West Singhbhum - there was 20-30 per cent decrease in the total area of millet cultivation by farmers in 2020.
Success in Odisha
But some states - Odisha, Karnataka and Tamil Nadu - have been reviving the cultivation of millets. The Odisha Millets Mission (OMM) has reportedly managed to motivate over one lakh farmers to cultivate millets across 15 districts in the state. The OMM has been facilitating the production, processing, marketing and consumption of millets. "We are promoting improved agronomy practices to boost millet production," said Aashmia Choudhury, State Coordinator, OMM, adding major emphasis has been given on awareness generation, minimum support price (MSP) and inclusion of millets in the public distribution system and integrated child development services.
Many farmers are coming forward to revive millet cultivation and they have reported increased seed germination and yield rates. Suprava Pradhan in Parbatipur village in Jhumpura block in Keonjhar district harvested 19.6 quintals of ragi in the kharif season. She sold 17 quintals in the local mandi and earned Rs.57,400. She sold per quintal of ragi at Rs.3377 as MSP. For her household consumption, she preserved 2.6 quintals. Pradhan is very happy with the income she earned from millets. In her words, "Five years ago, we used to grow ragi only for household consumption. But now the government is paying us good money for millets. This year we will increase our millet cultivation area."
"Cultivation of millets is less expensive," said Kanak Nayak another successful tribal woman farmer hailing from Bada Dumuria village in Jhumpura block in Keonjhar. "Crops like cotton and rice need a lot of fertilizers and pesticides. But for millets, there is no need for the additional costs. Sometimes, if there are pests in millets, I apply neem oil to fix the issue," she explained.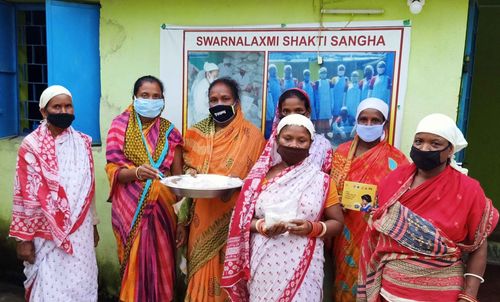 Photo: Members of Swarnalaxmi Shakti Sangha with their ragi ladoo mix flour in Keonjhar district. (Courtesy: Odisha Millets Mission).
An official associated with the Agriculture department said 203,844 quintals of ragi were procured from 24,945 farmers at the MSP of Rs.3295 per quintal in 2020-21, and Rs.65.84 crores was credited to registered accounts of farmers. This year, the Tribal Development Cooperative Corporation of Odisha is targeting 4 lakh quintals by the end of March. Farmers have also been encouraged to exchange indigenous heirloom seeds through seed festivals. Such exchange of indigenous seeds and knowledge strengthen the social and ecological relationship. "This ensures the sustainability of in-situ agro-biodiversity through inter-generational participation," said Dinesh Balam, associate director, Watershed Support Services and Activities Network (WASSAN), Bhubaneswar. WASSAN is the programme secretariat of OMM.
The OMM initiative is also adding to efforts aimed at women's empowerment, by promoting millet-based enterprises. Under OMM's initiative, institutional and technical support has been provided to women self-help groups to set up millet processing centres. Children too are a focus of the mission. In a first of its kind initiative in the state, ragi ladoo has been distributed to over 86,000 pre-school children in the Anganwadi centres in the Keonjhar district. The main objective is to address malnutrition and nutrition deficiency. Each week, two ragi ladoos (20 grams) are given per child.
The central government's Ministry of Agriculture and Farmers' Empowerment as well as Niti Aayog have recognised OMM as a model that other states should adopt for the promotion of millets. Similarly, the United Nations World Food Programme has entered into a partnership with the Government of Odisha for promoting the OMM framework in other millet growing countries.
Roadmap
Agricultural experts working with the Adivasi communities in Odisha reiterate the need to revive the traditional practice of inter-cropping of millets with pulses and vegetables, for crop diversification. Ensuring access to diet diversity is a vital step in reducing food and nutritional insecurity. Therefore, it is important,they stress, to develop a parallel policy on supporting farmers to grow both small and major millets.
Small millets such as kodo and kutki have a cultivation history of 3000-5000 years and were major food crops once upon a time. "Local landraces should be given due recognition under millet revival programme," urged A Seetharam, a farm scientist who has worked with the Indian Council of Agricultural Research on millets for over four decades in Madhya Pradesh. It is equally important to conduct the scientific study of landraces and map their nutritional profile, he underlined.
"Boosting production alone, however, is not sufficient, as the experts point out. Strengthening the millets value chain is also critical," acknowledged Bijoy Kumar Swain, chief district agricultural officer, Keonjhar. A number of options are available, which would each fill one part of this chain. There is a need to create an enabling environment for cross-border trade. The Agricultural and Processed Food Products Export Development Authority could incentivise commercial cultivation of millets with a specific focus on product in each district. Cluster farming for trade promotion is another option.
Meera Mishra, country programme officer at the International Fund for Agricultural Development, says "We need better recipes to get millets on our plates and make them part of everyday food consumption." To make this happen, however, there is a need to first conduct a comprehensive study that will help our understanding of the market segments, consumer preferences and export competitiveness. Value-added produce of millets such as 'ready-to-eat' products are prerequisites to boost millets in rural and urban areas.

Once known as coarse grains, millets are now becoming today's nutri-cereals. The state government should run a mission-mode campaign on millets as a solution to lifestyle disorders which will transform the prevalent perception of millet as the poor man's food, especially among the urbanites. It is also imperative to strengthen farmers' producer organizations, self-help groups and cooperatives and enhance their linkages with the marketing agencies. Some states are also gradually introducing millets in their public distribution system, as well as the Integrated Child Development Scheme.
"These are praise-worthy interventions," says Vilas Tonapi, Director, Indian Institute of Millets Research, Hyderabad. "The next step is to mainstream the availability of millet products in urban super-markets." That could reverse the long slide in production and consumption of what many Indians long considered their staple food.