The conflict of interest between conservation and development manifests itself yet again in the National Green Tribunal instituting a fact finding committee "to determine ecological and environmental consequences of massive diversion of 'Amrut Mahal Kaval' (grasslands) to Defence, Nuclear and Industrial Projects in Chitradurga, Karnataka".
A Bangalore-based NGO – the Environment Support Group (ESG) petitioned the National Green Tribunal's south zone in Chennai objecting to the diversion of nearly 6000 hectares of forest ecosystem to non forestry purposes. If this is actually forest land has become the bone of contention.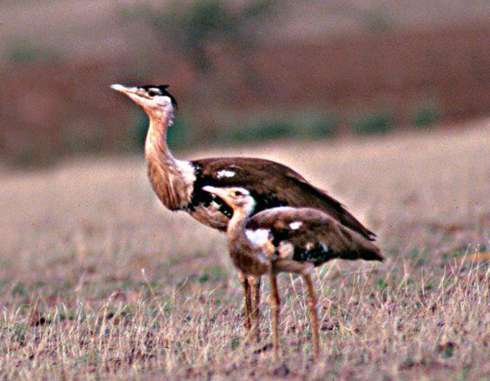 The Great Indian Bustard is a typically arid zone bird and is so endangered because there are only about 250 left in the wild in all of Asia. (Photo credit: Vivek Sinha)
ESG submitted documentary evidence to the Green Tribunal stating that 9323 acres of forest lands in Survey numbers 1, 47 and 347 in Challakere Taluq of Chitradurga district in Karnataka are being diverted for non-forestry purposes: These non- forestry purposes or projects include:
An advanced R&D complex, a 3.5 km runway and test centre for long-endurance ( 48-72 hours) UAVs and UCAVs (to Defence Research Development Organisation
Synchrotron Energy Research Centre and Advanced Aerospace Research Centre (to Indian Institute of Science)
Special Material Enrichment Facility (Uranium) (to Bhabha Atomic Research Centre)
Spacecraft Technologies (to Indian Space Research Organisation)
Various industrial ancillary units (to Karnataka Small Scale Industries Development Corporation)
Integrated Solar Park Development along with Grid Connected 25 MW Solar PV Power Project (to Sagitaur Ventures India Pvt. Ltd.), and
Developing Housing Layout and sale of constructed villas (to Karnataka Housing Board).
More than a lakh people from around 80 villages are set to lose one or more of their main livelihood sources (grazing, weaving, firewood collection etc) due to this diversion of land.

Officials contest this and claim that these grazing pastures are not reserved forests, nor do they belong to the forest department; the pastures were granted as grazing lands to herders by the Maharajas of Mysore. The British government had used these grazing lands only for the bullocks in the Army. After Independence, the lands were administered by the Animal Husbandry Department. Citing a 1971 letter, vesting the governance of the grazing lands exclusively for animal husbandry, the department disallowed any human usage. But after a recent cabinet clearance, the district administration has diverted lands for non-forestry utilisation, as evident from documentation that this magazine is privy to.
The documentation obtained by India Together, nevertheless, clearly states "Pending further examination, the three Kavals of Halkurke, Chikkasandra and Ramaradevarahalla (which have already been notified as Reserve Forest) are deleted from the list of lands proposed for surrender". This means that these lands, which were notified as reserved forests, have to be excluded and cannot be surrendered for development of the scientific /research complex. Copies of these documents pertaining to land tenure and ownership have been obtained by India Together.


Complete details pertaining to land tenure and ownership obtained by India Together are provided here. (click on the image) Source: Office of the Deputy Commissioner, Chitradurga District (via Malini Shankar)
Whose land is it anyway?
These grasslands were earmarked for grazing of the Amrut Mahal cattle – a drought resistant variety of cattle. The grazing lands with degenerate shrub forests "belong to the Animal Husbandry Department, so the question of de-notifying forest land does not arise" district administration officials told India Together. Some pockets of these grazing lands are used for social forestry plantations of Hardwickia binata, Deputy Conservator of Forests (DCF) Kumaraswamy clarified in Chitradurga. Besides, social forestry plantations are used for fodder and fuelwood usage of rural populations.
About 1000 hectares are demarcated as sheep-breeding farm, and also belongs to the Animal Husbandry Department. 'The Kaval comprises of many pastures that host fodder-yielding varieties of trees, ideal for cattle grazing and hence, has been administered by the Animal Husbandry Department,' officials from the district administration in Chitradurga told India Together.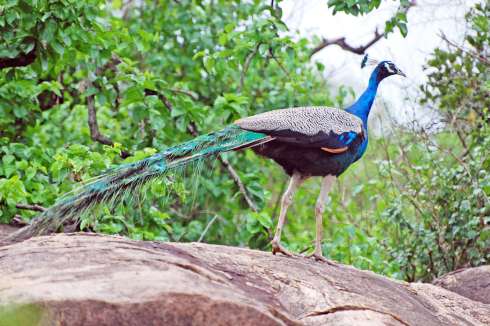 The Indian peacock struts about the rocky ecosystem. (Photo credit: Malini Shankar)
Attempts to seek clarification from the Principal Secretary of the Department of Forests, Ecology and Environment proved futile, despite repeated attempts by e-mail and telephone to seek a personal meeting for clarification and to secure copies of documentation.
Citing a 2002 Karnataka High Court Order, ESG's Leo Saldanha told India Together "A 2002 decision of the Karnataka High Court affirmed that these lands could not be diverted for any other purpose. Pursuant to this, the Government of Karnataka passed a circular confirming that this decision applies to all Amrut Mahal Kaval (lands), and thus could not be diverted, at least not without the permission of the High Court."
ESG draws attention to the judgment in the case of Godavarman versus Union of India (302 / 95) in which the Supreme Court ordered that any habitat supporting biodiversity including flora and fauna must be construed within the dictionary meaning of forests, regardless of the legal status of the ecosystem, in order to protect endangered species. It implies that any land with endangered floral and faunal diversity should be considered forests and conserved as such, notwithstanding any legal nomenclature of forests.
"Post Godavarman ruling, the diversion of forest land for non-forest purposes requires the approval of the CEC (Central Empowered Committee), in addition to compliance with the procedure under the Forest Conservation Act," Saldanha insists.
Therefore, the Karnataka government's lack of transparent governance comes into sharp focus yet again, as it is unable to clarify if the notified forest lands – according to the Environment Support Group Trust - remain notified forest lands and on what grounds the government might seek exemption from a Supreme Court Order to divert biodiverse lands to non-forestry purposes? If this cannot be justified, the Government of Karnataka can be accused of contempt of court or violation of stringent court orders in the landmark Godavarman case.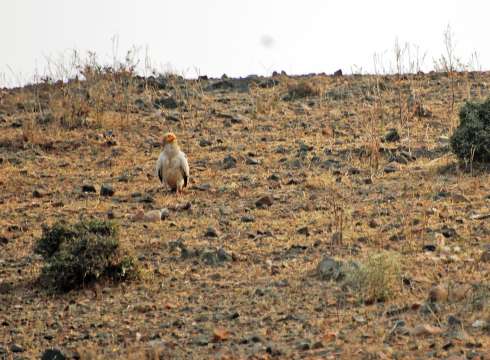 Scavenger Vulture is typically found in semi arid areas and grassland ecosystems. (Photo credit: Malini Shankar)
Threat to the ecology
Presence of wild boar and Kondukuri - a local and a rare breed of deer - has been documented in the arid ecosystem of the region. Adjacent to the grazing lands of the animal husbandry department, there is a patch of dense scrub jungle or dry deciduous forests, senior government officials this correspondent spoke to confirmed.
The degraded forests today nurture the Savannah ecosystem with thriving faunal diversity, despite disappearance of the once stately forests. Kenneth Anderson - South India's hunter of man-eating felines in British India, once hunted a man-eating tiger in the belt between Chitradurga and Channagiri to Bhadravathi. What were once high forests with stately trees like Sandalwood, Rosewood, Pongamia, Peepal tree and other fruit bearing Ficus trees eventually degraded to become a grassland ecosystem, possibly because of anthropogenic conflict.
The grassland ecosystem nevertheless offers habitat to a whole diversity of faunal wealth including the Great Indian Bustard (only 250 are remaining in the wild in entire Asia today), jackals, bears, deer, black buck, leopards, peacocks, scavenger vultures, protected snakes like Indian Python, Indian Cobra, vipers monitor lizards etc.
The Environment Support Group spearheaded the legal defence for the mute wildlife, some of which – like the Great Indian Bustard - are so threatened only because they are found exclusively in this latitude.
But what worries conservationists today is that if it is developed further to boost the human development quotient, it can possibly traumatise resident wildlife and lead to human animal conflict even in adjoining areas.
Given that the grassland ecosystem in dry arid shrub forests in Chitradurga forms an ideal habitat for the Great Indian Bustard, jackals, wild boars, bears, black buck, leopards, peacocks, protected snakes like Indian Python, Indian Cobra, vipers monitor lizards etc habitat loss can lead to increase in human animal conflict like crop raiding, wildlife attacks on human habitation. Worse still, habitat loss can lead to isolation of herds and cause genetic isolation of endangered species. In this day and age of climate change, genetic mutation can lead to potentially unknown manifestations of human animal conflict.
"Wildlife cannot differentiate between legal governance and nomenclature of lands, it is a habitat for wildlife," says DCF Kumaraswamy. What if a leopard is hunting a blackbuck or a deer and in the ensuing chase, the leopard or the blackbuck inadvertently stumbles over a piece of broken glass in private property or is caught in the fence? The carnivore will turn a man eater. The herbivore would die an agonising death followed by gangrene. Neither the forest nor district administration officials in Animal Husbandry, district collectorate, nor any other official will remain accountable.
Human encroachment of forests has robbed endangered wildlife of their home and hearth everywhere. Bellary's infamous mine pits were home to leopards, jackals, hyenas, bears, mongoose, civets, caracals, foxes, vultures, snakes, monitor lizards, etc, all of which are threatened by mining. Dams, mines, highways, housing, schools, hospitals, offices now even scientific research labs and missile launch pads find real estate only in forests.
If humans encroach even on degraded forests, where does wildlife have to go?

Sunrise over Jyotir Mutt in Chitradurga's hills... the Eastern Ghats spreads to the eastern frontiers of Karnataka. (Photo credit: Malini Shankar)
Threat to livelihoods
A less emphasized, yet equally significant fall-out of this land alienation is the potential impact on local livelihoods and the environment. More than a lakh people from around 80 villages are set to lose one or more of their main livelihood sources (grazing, weaving, firewood collection etc) due to this diversion of land. Dodda Ullarthi is one such village in the Challakere Taluq of Chitradurga district, with an approximate population of around 5000.
Karianna, the Gram Panchayat member of Dodda Ullarthi told India Together "We are anxious because this is a drought prone district and we are dependent on cattle for livelihoods. We cannot depend on agriculture in this arid ecosystem; so we rear livestock to earn our livelihoods. There are in all about 150000 animals / livestock in these 70 – 80 villages of the Taluqs. We use about 11000 acres in Varavu Kaval and Khudapura Kaval and in Ullarthi AM Kaval 2143 acres are utilised for grazing cattle. We don't need compensation, we want to graze cattle and sustain our livelihoods."
According to Karianna, the ecosystem also sustains medicinal plants. People weave rugs, and make products of wool from sheep; they also depend on usufruct and fodder-yielding species of trees in these lands. The community does not support educated people in white-collared occupations, and the economy here revolves around cattle grazing and agriculture. Residents, naturally, are very concerned about their future in view of the diversion of land.
State high-handedness in the matter has now given the entire episode a political hue as well; on 15 April, residents of the affected villages had organised a peaceful walk after obtaining necessary permissions and acknowledgements from the election office and police authorities. But on the night of 14 April, police informed the organisers they would not be allowed to go ahead with it as the Election Code of Conduct was in place. The organisers were threatened that if such an event took place, participants would be arrested and a case would be registered against them. This clamp-down on the right to peaceful protest for a legitimate cause led voters of Dodda Ullarthi Village to unanimously decide to boycott the upcoming Vidhana Sabha elections.
"All our livelihoods are at stake. We at least need an assurance from the authorities and politicians that our needs will be looked into for us to exercise our franchise in the coming elections," says Karianna when asked why they want to risk boycotting elections and losing political representation altogether. Whether such a stance by one village in isolation will actually move authorities to take a serious look at the issue and reconsider the land grants, however, remains suspect.