The National Rural Employment Guarantee Act (NREGA), introduced in 2005, entitles all rural households in the country to a minimum of 100 days of work per year. Under the law, workers must get employment on public works in their own gram panchayat. These works are to be decided by the gram sabha (village council) itself. The gram sabha is expected to discuss the needs of the village and plan works for improving people's livelihoods and access to basic infrastructure.
In Jharkhand however, planning for projects under the NREGA usually does not take place in this manner. This process is often hijacked by the powerful people of the village who plan schemes for their own gain. Contractors are often known to collude with the Gram Rozgar Sewak, Junior Engineer and Block Development Officer to get those schemes added to the "shelf of projects" whose implementation they can control to siphon funds.
Even when people do participate in planning in large numbers, the chosen schemes are primarily restricted to wells, roads and large ponds. This happens because even the functionaries and officials involved in the implementation of NREGA don't know about the benefits and technical details of the full range of works that can be done through the programme.
In 2014, the Ministry of Rural Development introduced a three-year project in 250 blocks of the country for establishing "Cluster Facilitation Teams" (CFTs) that would provide technical support in the implementation of NREGA, and involving self-helps groups (SHGs) members to help workers demand their entitlements. In each block a non-government organisation (NGO) is given the funds for identifying, training and employing the CFTs and SHG members.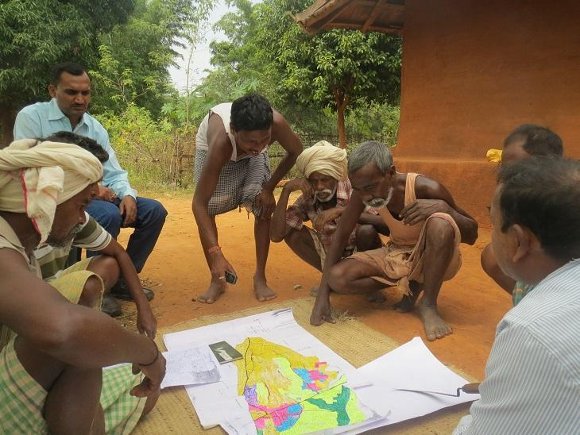 In Jharkhand the CFT project is being implemented in 76 blocks, with the participation of 28 NGOs. In the first year of the project some of these blocks saw a leap in planning, especially those which have well trained and motivated CFTs and SHG members.
The CFTs of these blocks first took a few people from the selected villages to other areas of the same or a nearby district where mud works have taken place through NREGA or other programmes. In these visits people learned about various possibilities, such as that of constructing small farm ponds and seepage tanks for harvesting rain water for irrigation, making trenches for checking soil erosion and planting fruit trees for augmenting incomes. These people then helped the rest of their village understand the various works that can be done through NREGA.
The CFTs helped the gram sabha make "resource maps" to locate people's land holdings and the natural resources of the village. Different patches of the village were visited to gauge the possibilities of works that can take place on them. Assets such as poultry sheds and goat sheds were planned for households without any land. The SHGs played a crucial role in mobilizing people – especially women - to participate in the planning exercises. Implementation of the collectively planned schemes has significantly increased the scale of NREGA employment in these blocks and has created many useful assets.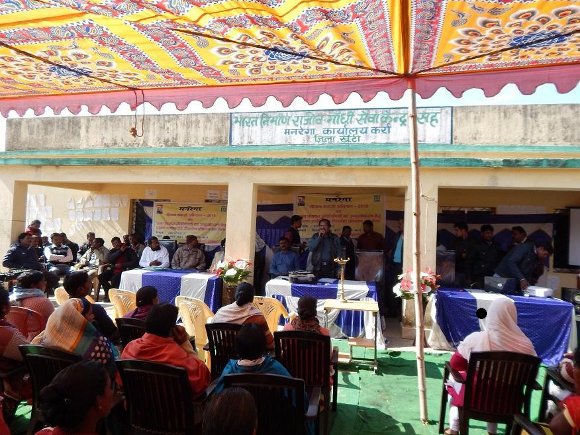 Inspired by the work done in these blocks and mandated by the Central government to plan for NREGA works for 2016-17 and utilization of grants given to gram panchayats for 2015-16 and 2016-17 as per the recommendations of the 14th Finance Commission, the Jharkhand government decided to launch a state-wide campaign called Yojana Banao Abhiyan in August 2015 to plan for every village of the state.
This campaign started with identifying and training a group of about 650 persons to form the campaign's "State Resource Team". These persons include members of civil society organisations, officials of the State Rural Livelihood Mission, district level NREGA functionaries, Prime Minister's Rural Development Fellows and others with some experience of planning. The State Resource Team has in turn trained the gram panchayat level teams comprising of the Gram Rozgar Sewak, two ward members and two other local residents.
Numerous workshops and meetings have taken place to bring together political leaders, officials, functionaries, activists, students, women's collectives, health workers and media to work on the campaign. Elected representatives have been trained to enable them to lead the planning process in their gram panchayat. Widespread awareness generation activities such as rallies, street plays, wall writings, radio announcements etc are encouraging people to participate in the planning of their village.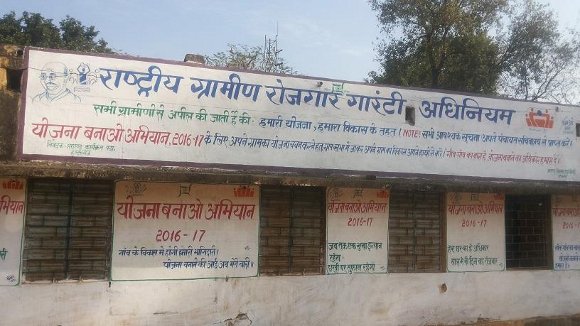 The Abhiyan envisaged a three-day planning process that was to be facilitated by the planning teams at the gram panchayat level, with groups of about 100 households. On the first day, the households would discuss options for improving their livelihood and basic infrastructure. Based on this discussion they would select works to be implemented by the grants given to gram panchayats, such as repairing or constructing all-weather roads, hand pumps, anganwadi centres and street lighting.
On the second day, they would be told how their natural resources can be managed for improving their economic activities – for example, by capturing rainwater for irrigation, land levelling for increasing the productivity of land, converting barren land into orchards and are to accordingly select schemes to be implemented by NREGA.
On the third day, a door-to-door survey of the poorest households would be conducted, in order to plan NREGA schemes for improving their sources of income. The three-day exercise would end with a gram sabha meeting for prioritizing and approving the selected schemes.
The actual experience of planning of course leaves much to be desired at most places. Several planning teams were poorly trained and were unable to properly facilitate the planning exercises. Seeking participation of people for three days was a big challenge. Many poor households were keen to get a goat or poultry shed constructed on their land, as they hoped to use these structures in the future as their own dwellings, instead of practicing animal husbandry. Many meetings intended for discussing the selection of schemes ended in bitter spats over faulty selection of households for other social support programmes such as the Public Distribution System and the Indira Awas Yojana.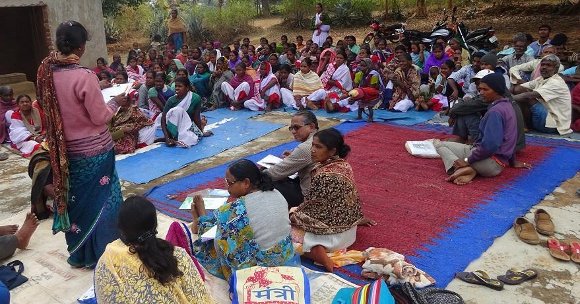 Notwithstanding the shortcomings in the planning processes, a lot has been gained from this Abhiyan. About 16 lakh schemes have been planned. People have learnt that planning for their village is their entitlement. Hijacking of the planning processes by functionaries and contractors has been challenged like never before. The collective planning also contributed to activating local democratic institutions. Workers understood that NREGA entitles them to not only work on demand, but also a statutory wage, payment on time, worksite facilities and grievance redress.
It can only be hoped that the achievements of this Abhiyan are built upon to improve the delivery of NREGA in the state, as the Act continues to hold tremendous potential of bringing a turnaround in the lives of people in rural Jharkhand.