If the health of children spells out a nation's future, India has reason to worry. The World Health Organization (WHO) estimated two years ago that an unhealthy environment is killing three million children under five all over the world, every year. One WHO expert has said that nearly four hundred and thirty thousand of those children are from India alone. Most could have been saved.
The problem has been building up even as poverty, the more widely worried about issue has already been taking its toll. Half of India's children are malnourished and over 5000 children die every year in India from malnutrition and hunger.
But this article is about the degrading environment and children's health. For most of us reading this, childhood was such fun. It was perhaps the sunshine of our lives. Many of us often pine to get back to its abandon and joy. We dreamt big dreams. We let our imagination run wild. We cried, laughed and enjoyed. That was life. Our parents and teachers watched us with pride and hope.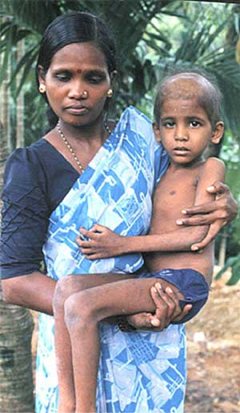 A 6 year old hit by cancer due to the deadly pesticide endosulfan, in Kerala. (File photo)
Air pollution and children
An increasingly hazardous environment for children has developed in major cities -- Mumbai, Calcutta, Delhi, Ahmedabad, Kanpur and Nagpur -- as they face severe air pollution problems. Twenty-three Indian cities with a population of over one million have dangerously high levels of pollution.
India's capital, New Delhi has the highest number of children suffering from asthma. Vehicles and generator sets contribute to a high level of suspended particulate matter. As children breathe faster than adults, they take in more poisonous emissions from vehicle exhausts. In the last ten years, the consumption of asthma drugs has risen by 10%.
Arjun Anand, five year old nursery student at the Cambridge School in Noida has already figured out how pollution in the National Capital Region is affecting him and his smaller brother. Says he: "Smoke burns our eyes. Even while traveling in the school bus, our eyes burn. Then when my brother walks on the street, the smoke goes straight at his face as he is shorter."
It is not just a dangerous external environment. There are hazards within our homes. Nearly 75 per cent of India's population still relies on fuel that emits toxic pollutants like carbon monoxide, particulates and hydrocarbons. The situation is especially alarming in rural India where mothers and grandmothers work in smoky poorly ventilated kitchens with children beside them. The smoke comes from badly designed stoves that use wood, dung cakes and agriculture waste. This hurts both mother and child leading to acute respiratory, lung and eye diseases. A smoky kitchen could affect expecting mothers as it could lead to stillbirths or low birth weight. Indoor pollution is a major problem.
Little wonder that thousands of children in India have become victims of asthma. India has an estimated 20 million asthma patients, most of them children. Early exposure to chemicals, pesticides and smoke substantially increases a child's risk of contracting asthma.
Pesticides
Pesticides are another danger. India is one of the largest users of pesticide in the world. But in Punjab, traces of chemicals from pesticides have been found in tests on breast milk. For babies, breast milk is the most important source of nutrition.
A Greenpeace India study of over 800 children in the cotton growing states of Gujarat, Punjab, Maharashtra, Karnataka, Andhra Pradesh and Tamil Nadu showed that serious mental development disorders were related to pesticide exposure. Often, children are employed to spray pesticides in fields. Even small doses of pesticide were found to impact analytical abilities, motor skills, concentration and memory of children. Pesticides can cause biological changes in the body, triggering cancer in the process.
Children in India not only have to suffer diseases like malaria and typhoid but now have to battle new diseases like cancer. Dr Manoj Sharma, Associate Professor, Radiotherapy, Maulana Azad Medical College, New Delhi told India Together that he is now seeing an increasing number of children suffering from cancer than ever before. He attributes it to a degrading environment.
The common cancers among children in India today are of the brain, liver, bones, muscles and eyes, says Dr Sharma. He points out that in rural India children with cancer most often get diagnosed for some other ailment, not cancer. India has one of the largest undiagnosed childhood cancer populations, he says.
Arjun from Delhi is just five years old. Sonu, his father, who works as a daily wage labourer, struggles daily to keep the cancer treatment of his son going. He has already spent over 200 thousand rupees and wonders how long he can carry on. Nishant Garg who has cancer of the lymph nodes needs medicines worth around Rs. 6000 a day.
His parents consider themselves as lucky; Nishant has at least got a bed at the acclaimed All India Institute of Medical Sciences in New Delhi. Thousands of children are not even able to get in because of long waiting lists. Many do not get treated for want of hospitals; in other cases, parents can ill-afford the expensive treatment.
Toys with dangerous additives
Even toys are suspect. We love buying toys for our children. But beware of harmless looking toys! Many soft and chewable toys and baby bottles are made of recycled polyvinyl chloride commonly known as PVC that can affect the mental development of a child. It could also contain dangerous additives. Carcinogenic colours are used to give a bright look to toys, which could enter a child orally. Children explore the world around them. Children happily play with dirt and often put their fingers into their mouth. Or they chew whatever they get. In the process if the environment around is dirty, they run the risk of disease.
Children are not "little adults": they are in a dynamic process of growth and development, and they are particularly vulnerable to the acute and chronic effects of pollutants in their environments.
-- WHO, 2003
---
•
Environment hazards

A few years ago, Greenpeace brought 71 toys from different countries to test how toxic it was. Two of them were from India. The Indian toys contained di-ethyl hexyl phthalate, a toxic chemical banned in the United States and Switzerland as it is a suspected carcinogenic. Still, Indian toy manufacturers are not getting penalized for not using food grade colouring.
Slum children, more danger
Slum children and children of other daily wage workers and vendors often suffer from varied ailments. Their immune system is tough, but it still cannot battle the continuous barrage of infections that come from contaminated water, poor drainage systems and unhygienic living surroundings. Poor sanitation and hygiene leads to children becoming victim to roundworms and hookworms. Other worms live on the nutrients in a child's stomach leading to malnourishment, retarded growth and a weakened immune system.
Noise pollution is another growing threat to these children who spend much of their time out in the open. Excessive noise affects every one, but children pay a greater price as they get affected earlier. Their ears are their audio-sensory windows to the world.
Mukesh Kumar Sahany is just seven but has to manage his family's vegetable stall in Varanasi alone. He does not mind it, but is worried about the noise and smoke he has to tolerate. "The smoke and the noise is too much around me. I feel very bad because of this. I wish we lived in cleaner surroundings as it will otherwise affect our health", he says, with awareness.
Irritation, insomnia, poor performance and even hearing loss can result from noise overdose. Children may be affected by Noise Induced Hearing Loss, which has no cure. Noise can also lead to effects in blood pressure, disturb the digestive system and cause general fatigue.
Noise levels in Delhi are rising by the day. There are more than three million vehicles on the streets and 600 new vehicles hit the road everyday in the capital! Laws to regulate noise exist, but are hardly implemented.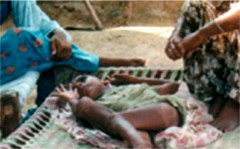 Rural Punjab seeing unusual health complications due to excessive pesticide use (File photo)
Children and contaminated rivers
Polluted rivers are another threat. In Kanpur, a few feet away from where water is pumped from the Ganga for drinking water supply, the city is dumping raw sewage! Students from the University of Michigan tested this water and found live cholera germs. Another nearby drain that flows into the Ganga comes from a TB hospital.
As many as 17 major drains empty into the Ganga at Kanpur.
But this does not deter thousands who converge everyday to take a bath in the sacred Ganga in Varanasi, the holy city. Here, raw sewage flows straight into the Ganga. Bathers are just a few feet away. Dead cattle floating in the Ganga is a common occurrence. Children frolic around unaware of the dangers that lurk in the waters. The devout even drink water from the Ganges.
In numerous villages around Varanasi, children suffer from skin rashes and other stomach ailments from polluted water. Ganga water as well as treated water has continued to carry traces of poison and chemicals. This sunk into the soil and affected the water table.
Thousands are cremated on a ghat in Varanasi from where unburnt wood, coal and sometimes, half burnt bodies are finding their way into the river. This one of the most polluted stretches on the ghats. In one instance, Instead of consigning it to the flames, a sadhu's family decided to drown his body the midst of the Ganga hoping for immortality. As the shroud is tied with heavy stones, it sinks to the bottom. Many of those who tend the pyres are children. Slum children in Chitpur Basti, Varanasi are always suffering from some aliment or the other.
The scenario in other Indian slums is not different. Shekhpur in Kanpur district is typical of many villages in Uttar Pradesh. Children suffer from skin infections and worms in their stomach. Villagers attribute it to the effluent from various tanneries, industrial units and domestic sewage that have polluted the groundwater here and in many areas of Kanpur.
Considered nutritious, parents often feed fish to their children. But fish in heavily polluted rivers like the Yamuna can contain high levels of lead, mercury and other toxins.
The young garbage collectors
Scores of children in India live off garbage dumps. They scourge for any material they can sell like plastic and metal. But as they sift through, they sometimes cut themselves with broken glass or are even exposed to hazardous waste. Industrial waste may be toxic. Many choke on the smoke as the garbage is set on fire. As plastic burns, it releases dioxins, which is one of the most toxic substances known.
Bholu is just ten, but his earnings as a garbage picker helps his family avoid the reality of going to bed without dinner. He wants to play and laugh, but finds that life has trapped him with other realities. "When we sift the garbage our hands and legs sometimes gets cut by broken glass. But if we do not work, how will our families eat? As we work in dirt, we also have a lot of health ailments", he says.
The threats seem endless. The impacts of a dysfunctional state of public sanitation in India are widely known, though change has not come. Nearly 70% of the Indian population does not have access to toilets. Nearly 70,000 tonnes of human waste lies in the open every day. It is the biggest contaminant of water. 600,000 die of diarrhea in India every year, most of them are children. Toilets cannot be built without political will. In rural India, girls drop out of senior school as there are no toilets and parents are hesitant to send them to school.
Shivmangal has rashes on his skin caused by the living conditions in the dirty Gonghi village, Unnao district, Uttar Pradesh. Unable to afford a doctor, his father has smeared burnt diesel oil on his wounds hoping it would cure him.
Harsha Satyakam, is bright, all of 10 years and a junior student at a private school in Noida, Uttar Pradesh. She is not from a poor family. "Most children of my age are suffering from various diseases like tuberculosis, asthma and various types of cancers", she says.
WHO numbers, 2002-3
- Acute respiratory infections are the top killers. Around two million children under five each year
- Diarrhea, the second biggest child killer. Around 1.3 million children each year
- Malaria kills approximately one million children each year, mostly in sub-Saharan Africa
- Traffic accidents and drowning

Six major classes of environmental risks for children
- Air pollution – indoor fuel usage, tobacco smoke, outdoors from traffic and industries
- Inadequate access to safe drinking water
- Poor hygiene and sanitation
- Disease vectors – mosquitoes and worms
- Chemical hazards – pollutants from unregulated industries, heavy traffic or toxic waste sites
- Unintentional injuries – traffic, poisonings, falls, burns and drowning

Solutions
- Washing hands with soap or ash before preparing food, before meals and after defecating
- Safe sanitary facilities, separate latrines for boys and girls
- Proper waste management, relocation of waste dumps away from human settlement
- Safe water storage in the home and simple treatment when water quality is in doubt
- Good ventilation in homes, improved cooking stoves and clean household fuels
- Screening doors, windows and eaves, along with the use of insecticide-treated mosquito nets
- Safer roads, regulated traffic and lowering speed limits (child injury and death from road accidents)
More information
The Healthy Environment for Children Alliance (HECA)
http://www.who.int/heca/en/
Conclusion
Few will disagree that healthy children brought up in healthy surroundings not only are a source of joy to everyone, but will be India's greatest resource tomorrow. But environmental realities are further depriving our children of their childhood, in addition to poverty. Children work long hours in dingy conditions and on low wages just to keep their kitchen fires burning. They toil in hazardous jobs working with material that hurts and endangers them. The irony is this: what good is it to have a defense budget of over Rs.750 million rupees when we are not leaving behind a healthy environment for our children anyway?