In 2014, the Directorate of Film Festivals bestowed the Dadasaheb Phalke Award on poet, lyricist, dialogue writer, author and filmmaker Gulzar for his rich contribution to Indian cinema. Gulzar is a household name. Gulzar winning the Dadasaheb Phalke Award triggers neither controversy, nor criticism. What distinguishes the award the most is its recognition of the creative mind that inhabits the heart and brain of a true, honest and good human being.
In 2009, Gulzar won the Lifetime Achievement Award at the 11th Osians-Cinemaya Film Festival for his contribution to cinema, an award that focussed on his "creativity and contribution to entertainment that goes beyond cultural, linguistic and other boundaries."
At 79, the lines on his handsome face are a bit more pronounced. His famous one-day stubble generously sprinkled with white has now disappeared. He is clean-shaven and his hair and moustache are more white than black. In an informal conversation, he talks about his persistent and brilliant passion for life in general and cinema in particular.
Why did you strip yourself of your original name Sampooran Singh Kalra and of the Sikh ritualistic paraphernalia of turban, beard, kirpan and so on?
I wanted to free myself from any kind of religious or communal associations. It is the only way to survive in this country where brainlessness is symbolised by caste and communal identity.
Tell us briefly about your childhood and the trigger that began the passion for poetry.
I was born in Dina (now in Pakistan) a part of Jhelum district in 1935. My love for Urdu poetry came through my Urdu teacher in Delhi's United Christian School where Urdu was the medium of instruction till Independence. My first poems were very simple. I described a nostalgic trip to childhood about a tree on my way to school, or, of an empty can rolling on the streets. I was not a good student and Mathematics was terrifying. In a business family, I was the black sheep. By the time I entered college, my father gave up on me. My brothers were brilliant. My father was convinced that I would end up attending Kavi Sammelans, get some stipend or other and keep borrowing from him and from my more successful brothers.
Then, how did life change its course?
I wanted to study literature. I was not allowed to. My eldest brother, bestowed with my guardianship, persuaded me to study for C.A. I did not appear for the exams. I came home with laddus on the day of the results telling them I had passed. But I also told them to free me from the responsibility of further studies. I was then given the option of joining the Navy. I did not take it up because I hated the uniform. So, I came to Bombay and took up work in a motor servicing garage. I also made lots of poet friends in films through Progressive Writers' Association, where I became a member.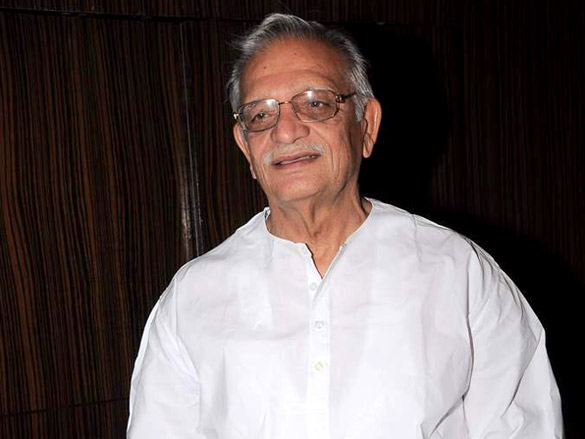 How did you get so deeply rooted in literature?
One of my brothers was studying for a Master's in Literature. I had read all his books and could easily discuss his subject with him. But the thirst for poetry and for writing was an ongoing one, spurred on through my association with the Indian People's Theatre Association (IPTA) and friendships with Basu Bhattacharya, Salil Choudhury, Debu Sen, Shailendra and Sukhbir, a prominent Punjabi-Hindi poet.
Your very first lyric for a Hindi film song was Bimal Roy's Bandini. How did you land this assignment with SD Burman as music director?
It happened almost by accident, or you might call it nemesis if you like. Working for films was the last thing in my mind. I dreamt of a teacher's job since that would give me room for my twin loves, reading and writing. During the making of Bandini in the early Sixties, SD Burman and Shailendra, who was writing the lyrics, had a tiff. One tune was waiting to be written into.
Debu Sen took me to Bimal-da who introduced me to SD. Since Urdu was my main language, SD had reservations about my ability to infuse the song with the right Vaishnava spirit. My first song for Hindi cinema was thus born: Mora gora ang laye le, mohe shyam ang daye de which became a big hit. Sadly, when the song was done, Shailendra and SD patched up and I was left in the lurch.
Bimal-da did not like this but SD was adamant. Bimal-da felt sorry for me and asked me to compose the lyrics for Tagore's Kabuliwallah, directed by Hemen Gupta.
But this first assignment also introduced you to your lifelong friend RD?
That is right. His son Rahul, or RD, whom we called Pancham, often wandered about the sets in shorts and sneaked out for a smoke now and then. He became the closest friend in my life and when he began to compose music for films independently, I collaborated on the lyrics for many of them. One of the greatest pains in my life has been the sudden loss of RD and I think I am still trying to cope with this loss.
As a director, it is literature that seems to have drawn you the most. Is that right?
Not quite. My first directorial film Mere Apne, was a Hindi adaptation of Tapan Sinha's Bengali film Aponjon which appealed to me because it described the restlessness of youth in the 1970s in an environment when young men and women were without jobs and were resorting to needless violence. It also tackles the vulnerability of helpless old men and women who are exploited by family members mercilessly. I have fond memories of the film because it gave me the opportunity of working with Meena Kumari.
Maachis was based on my own script. Achanak was based on a script jointly written by K A Abbas and me. Kinara was based on my own script and it was a tribute to the art of classical Indian dance and the dancer who loses her sight in a freak accident.
But even then, literature seems to have been the greatest pull and you have done wonderfully in literature-centric films…
You are perhaps right in the sense that a major chunk of my directorial films are drawn from literature. Aandhi was adapted from a Hindi short story by Kamaleshwar. Ijaazat was adapted from Tapan Sinha's Jatugriha, based on an original story by Subodh Ghosh, a renowned Bengali littérateur. But I wove in my own inputs into the script and introduced a new character.
Kitaab was adapted from a noted novelette by Samaresh Bose. Namkeen was also based on a work by Samaresh Bose. Khushboo was my tribute to Sarat Chandra Chatterjee, on whose novel Pandit Moshai the film was based. I even made Angoor loosely adapted from William Shakespeare's Comedy of Errors because I wished to explore Sanjeev Kumar's tremendous talent for humour and comedy.
But do you think that my films not based on literature have not been successful? There is no formula for the box office and I have not really made films for the box office. Thanks to my producers, I never needed to.
Many of these literary inspirations that you mention are from the regional literature of our country. How do you see vernacular literature in India today in the face of the English onslaught? Do you think cinema could be a good medium to uphold the richness of the literature of the states?
I think our cinema is going through a phase where the visuals are more important than words. The attempt is to keep you engaged in your seat, not allow you to blink or think. One does not have a definite and direct answer to what exactly is happening in our cinema. I think we are adapting to another language of cinema. We are fascinated with images. I have to admit that cinema closer to literature has taken a backseat.
Do you agree with those who have panned Maachis as a strongly political film?
No, I do not agree. For me, Maachis is a love story. In fact, Maachis is much more than a love story. It is about youngsters of the 90s trapped in a world of danger veiled by cosmetic democracy and didactic attitudes of self-appointed leaders. It is about friendship and loyalty, about the simple naïveté of village folk, whose world turns topsy-turvy when they slowly awaken to the reality of police brutality without rhyme or reason.
It is also about the open skies, about running streams and brooks, about songs and dances performed in the chilling cold of a wintry night fringed with the danger of getting caught. It is about death and disaster, about the juxtaposition of power and politics placed against the vulnerability and innocence of those who are weak but are not aware of it. Finally, it is about the triumph of the human spirit in love with life and with humanity so intensely, that when death comes knocking out of turn, there is neither fear nor danger but relief - the relief of being free.
Even if we look at the many layers in Maachis beyond politics, you must agree that somewhere there is an element of political ideology creeping in?
I was reminded of my earlier film, Mere Apne, where disenchanted young people were manipulated by a politician. Disgruntled youth back then had sticks or, at most, bicycle chains as weapons. But by the 1980s, they had guns and bombs. Maachis updated Mere Apne. But in Maachis, the politician figure is shown as still being up to his usual tricks. The basic character of the politician has not changed. How can young people be blamed? How can schoolboys be labelled 'terrorists'? They were innocent. Having said that, I insist that Maachis is not a political film. Basically, it is a love story.
Hu Tu Tu is an extension of the same disruptions among our youth whose violence has degenerated into an unimaginable decay of values, where morals cease to have meaning and the young sometimes become unreasonably judgmental about the old and the experienced.
How do you see the portrayal of politics in your cinema in general?
Some critics have labelled my film Aandhi as a political film. But I know it was based on a story by Kamleshwar. Many viewers and critics felt it was an allegory on Indira Gandhi's life. But I also knew that it was loosely framed on certain phases in the life of Maharani Gayatri Devi of Jaipur.
Coming back to poetry, and your lyrics for Indian cinema in particular, they are not only beautiful but are also marked by your innovation and imagination, where you have played around with sounds. Tell us more about that.
It already existed in Hindi cinema. I might have added to the repertoire that is all. These are purely sound-centric and sound-based lyrics peppered with actual sounds such as (a) the sound of quickened heart-beats (Dhak dhak karne laga from Beta), (b) the sound of thundering rain (Lapaka jhapaka tu aare badarava from Boot Polish), (c) the sound of the spinning wheel (Chappa chappa charkha chale from Maachis), (d) the sound of dancing bells (Jhanak jhanak payal baaje from the film of the same name) (e) the 'sound' of night (Jhoom jhoom dhalti raat in Kohraa), (f) the sound of tears (Naina barase, rimjhim rimjhim in Woh Kaun Thi?), (g) the sound of lapping waves on the shores (Chhai chhapa chhai, chhapapa chhai in Hu Tu Tu), (h) sounds to match the beat and rhythm of a running train in a hilly terrain (Chal chhaiyyan chhaiyan in Dil Se). Sounds picked up from real life become lyrics of a song.
What is your opinion of music directors you have worked with since RD passed away, or even before?
I am very happy with the successor I discovered in Vishal Bharadwaj who scored the lilting tunes of Maachis. He is now an established director himself and does the music for his directorial films. I consider myself honoured to have worked with the great composer Madan Mohan who agreed to collaborate with me first in Koshish, though it had very few songs.
In those days, the music director composed both the songs and the background music. His compositions for Koshish are outstanding. We also worked together for Mausam and he created one of the most memorable music for Dil dhundta hai phir wohi. He passed away before the film was complete and Salil Choudhury stepped in to do the background score.
How do you foresee the future of Indian poetry, cinema and the film music genre in general?
Lyrics and music in Indian in Indian mainstream cinema have changed, more for the better. A song becoming popular does not mean it is devoid of poetry. Take, for example, my lyrics "Kajra re kajra re" for Bunty aur Bably - it won an award and you cannot write it off. I want to learn this mainstream language of cinema.
A.R. Rahman, Mani Ratnam and myself tried out a different 'sound' experiment for Dil Se in the Chal chhaiyaan chhaiyaan number and it became an all-time hit. Mani Ratnam's Guru had a serious layer beneath the surface and I lapped it up as a poet because Ratnam I think is the only director who asks for abstract images.
I wrote a song for the Commonwealth Games composed by Shankar-Ehsaan-Loy. I feel they have achieved a sensible synthesis of popularity and class in their music. The parameters of Indian poetry, Indian cinema and the film music genre have widened significantly and are continuing to widen.
After having won 19 Filmfare Awards, an Oscar, a Grammy and now the Dadasaheb Phalke Award, what do awards mean to you and what does this special one mean to you?
Awards are a sign of recognition of your work. So awards make me happy of course. I am overwhelmed by the love and appreciation of my work as lyricist, director, screen-writer, producer and poet. As far as the Dadasaheb Phalke award is concerned, I think there are a few moments in life when a writer, whose work is to play with words, does not know what words to choose to express gratitude and thank people.
I wish to mention that no one can reach this stage without the support of several people. I was lucky that since the time I started, I have met people from whom I have learnt a lot. Among them is my Guru Bimal Roy who picked me from nowhere and took me along with him. Then there were people like Salil Chowdhury, Sachin Dev Burman and Hemant Kumar, all of whom I consider among my gurus.
Any regrets?
My only regret used to be that a day has just 24 hours. But I have stopped accepting assignments these days because I think I have worked enough for a lifetime and should now take rest, relax and enjoy the mellow hours of my life.