Dakshina Kannada district of Karnataka has been experiencing unprecedented rains over the last two and a half months. With temperatures remaining cooler than average for most of this time, many small ice cream parlours in the district have switched over to making coffee, tea, dosa and such other 'hot menu' items as the demand for 'cold items' has shrunk steeply. But Charles Sequeira and his wife Nirmala, whose nine-year-old Vishal Cream Parlour has been selling natural ice creams for the last five years, are very excited about the business. "I never anticipated the ice cream would fare so well," says Charles. "The demand is so good this year that we have not felt the usual monsoon slump in sales this time."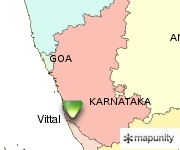 The natural ice cream business
How did they decide that there would be a good market for natural ice creams? Sequeira admits readily that he was simply trying to do something new, and not very sure about its potential when he started out. "Everybody is venturing into something new. After my marriage, at the behest of my wife, we too decided to do something different." The husband-and-wife team visited a lot of ice cream parlours, to taste their 'special' ice creams. And finally, they settled on natural ice creams made from local fruits as their focus. Today, Vishal makes eight varieties of natural ice creams - mango, chikku (sapota), anjoor (fig), banana, papaya, khajoor (dates) , tender coconut, and jackfruit.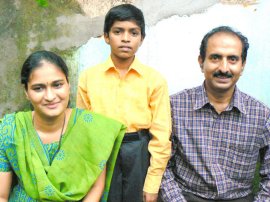 Charles, Nirmala and 'Vishal'
Photo: Padaru
All this she knows, because of small mistakes along the way, from which they have learned. They have also discovered that some fruits are not suited to their operation. Pineapple ice cream is the one they couldn't succeed at, despite many trials. So also with grapes. "The sour content in these fruits spoils the milk. The pineapple fibres don't allow the pulp to be homogeneous. Fruits with more water content are not suitable," says Charles. On several occasions they have also tried to produce natural vanilla ice cream using the vanilla powder produced by local farmers. "Unfortunately, we failed in this. If we put less vanilla powder, the flavour can't be felt. A heavy dose leaves an after-taste in your mouth."
Nirmala volunteered to focus on quality issues. Research and development of new preparations is also her portfolio. She explains, "The quantity of fruits you need is not very much, but utmost care is required in their selection and each subsequent step of preparation." For the natural ice creams to be tasty, very good quality milk and cream is a must. One over-ripe or slightly spoiled fruit could also make the whole batch useless. The fruits have to be ground thoroughly till no small fruit bits remain in the pulp. Nirmala adds, "You can serve fresh fruit-bits along with the ice-cream, but even if small bits are allowed in the ice cream, they solidify like ice, turn hard and spoil the overall taste."
The production costs can be high, as only selected fruits can be used. For example, tender coconut has to be slightly more mature than the ones we generally use for drinking. Its meat should be easy to scrape with a spoon. The browny outer layer of the meat has to be completely removed, which is laborious. The Seuqeiras have also found that papayas from Bijapur are the only ones that work well, as they don't have a strong papain smell. The Sequieras don't add artificial colours or flavours to the tender coconut, chikku and fig ice creams. Though a bit of yellow colour is put into the jackfruit and banana ice creams, they are convinced that this is not necessary.
While the usual synthetic flavoured ice creams are priced at Rs.60 per one-litre family pack, the natural fruit ice creams are priced around Rs.100.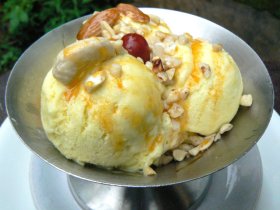 The popular jackfruit ice cream
Photo: Padaru.
Vishal has been making fig ice cream by using locally grown fruits. Only the during the off-season, dried figs imported from Afghanistan are used. Fig grown in this area - Malnad receives heavy rainfall - is relatively less sweet, and can't be dried. Charles' experiment with local figs has opened up a new value-addition channel for their utilisation. In some cases, however, the local options are more limited. Kiwifruit ice cream, a specialty of Vishal and a favourite for marriage orders, is made using imported tinned pulp. "If we use fresh kiwi fruits instead, the quality would improve substantially, but fresh fruits are very expensive and seasonal," says Charles.
Customer preferences
In Vittal town, most of the customers are from the neighbouring farming areas, and typically lower middle class. To advertise the availability of natural ice creams potential customers, the Sequeiras have put big posters on their walls showing the ice creams with their respective fresh fruits. They also developed the market for natural ice creams gradually. "Initially when we started making natural ice creams, we weren't sure how this rural customers would respond to it", reminisces Charles, "so instead of taking the risk, we started introducing it in combination with other usual ones as assorted packages." Soon the couple gauged the customers' pulse; buyers clearly distinguished between natural and artificial ice creams, and showed a liking for the former. The Sequeiras then knew they had hit upon a good opportunity, and quickly began shifting to more and more natural ice creams.
Charles says proudly, "Our customers' taste-shift is clear and overwhelming. Now more than 50 per cent of our production is natural ice creams. Most of them who taste it once, repeatedly ask for the same. A major chunk of our natural ice cream sales is from carry home packs."
Chikku was the much-sought-after flavour until recently. But with the introduction of tender coconut ice cream at Vishal a month ago, this has rapidly become the top seller. [I found this outstanding myself; a dash of cardamom suits it very well]. Another big hit is banana. Rasa bale, the rare variety of table banana, is excellent for making banana ice cream, says Charles. "It simply melts in your mouth." Since rasa bale is not always available, he sometimes uses the popular local variety kadali (known as yelakki bale in and around Bangalore).
Vishal also caters at marriages and other functions in a radius of up to 50 kilometres from the the town. Serving ice cream is now the in thing even among the rural rich at family functions, and natural ice cream - even customised natural selections - is a very good alternative to the usual synthetic flavoured choices.

At the top of the steps leading to the ice cream parlour, at the entrance, one finds an attractive poster of jackfruit ice cream. Every monsoon, thousands of jackfruits are allowed to rot. As very few like to eat it, there is not much demand. Most of these soft-carpelled jackfruits, in particular, are abandoned and simply get back to the soil. But the Sequeiras decided to embrace it. Charles says simply, "The jack is one of our own crops. We are trying all these other fruits, why not our jackfruit? Luckily it did well." So far they have used their own fruits to make jackfruit ice cream, as they know its characteristics very well.
Jamoon and Mulberry are two local fruits they want to try next. Though many other fruits too might be excellent for ice cream, many are not available in bulk, or round the year. Like the butterfruit that lends a beautiful pista color, taste and texture; it has to come from Coorg and is available only in monsoon. Tender coconut, banana, and fig are the ones that aren't seasonal.
What next? With Vishal proving such a hit, should we expect to see natural fruit ice cream come on to the markets in a big way? Carambola, rambutan, gauva, sitaphal, Bijapur graps - the list is quite a long one. That would make Charles and Nirmala very happy, besides the success it would bring to their business. There are a lot of local and healthier options to our ice cream choices, they say, and if the natural fruit ice cream market grows, that can only be a good thing.