At the 150th commemoration of the Irish Famine held at Cork, Ireland, I vividly recall the mayor of the city telling the audience: "How barbarian was the society then that at a time when people were dying of hunger and starvation, corn was being loaded in ships for export to neighbouring Britain." Nearly 160 years after that great tragedy, the world is preparing a fertile ground for yet another, more sinister and barbaric act. This time, the world is witnessing a race to invest in overseas farmlands and turn them into food estates.
In the name of food security, what is worrisome is that the global food production and distribution channel is actually getting into the hands of a few international agribusiness companies with ties to hedge funds. With large populations being displaced world over from such land takeovers, and with World Bank aggressively promoting it, control over the food chain is increasingly being passed into the hands of private investment. Many of the food and financial companies investing in farmlands around the world are also bringing in their own farm workers, production technology and equipment.
It is happening around the world. In India, Karnataka is preparing to lift restrictions on purchase of farm land in what appears to be a misguided attempt to attract investments. Meanwhile, about 15 companies, led by the public-sector State Trading Corporation (STC), and including Gujarat Ambuja, Ruchi Soya industries and Jhunjhunwala Vanaspati Ltd., are in the process of leasing 10,000 hectares of productive farmlands in Paraguay, Uruguay and Brazil in Latin America, mainly to cultivate soybean and oilseeds. Indian companies are also moving into Burma to undertake production of pulses, and buying palm oil plantations in Indonesia. Australia and Canada are next on the land shopping list.
National laws are being suitably amended. The Indian Ministry of Food and Agriculture is backing the outsourcing initiative. The Reserve Bank of India through the Exim Bank is contemplating a change in the existing laws to provide loans to these companies to purchase land abroad. Not only in India, national laws are also being rewritten elsewhere - in Argentina, Mongolia, Australia, Russia, and many other nations - to facilitate the purchase of land overseas or allow foreign companies to buy land within their own borders.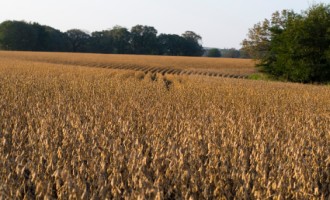 After having increasingly divested its farm population from agriculture and moving them into the cities, China is now on a land buying spree.

In Pakistan, now in the throes of a food crisis, Prime Minister Yusuf Raza Gilani showed exuberance after his return from a state-visit to Saudi Arabia in mid-June. After all, in exchange for the desperately needed foreign investment, he had reportedly offered to sell thousands of hectares of productive farmlands. Meanwhile, Qatar is preparing to outsource its food production to Pakistan's Punjab, where nearly 25,000 villages are faced with displacement. Saudi Arabia is also planning to acquire a 1.6 million hectares food estate in Merauke in Indonesia to produce rice for export back home.
Saudi Arabia is not the only Gulf country looking for land elsewhere. A Gulf Cooperation Council (GCC) has been constituted - with membership from Saudi Arabia, Bahrain, Kuwait, Qatar, Oman, Jordan and the United Arab Emirates - scouting for overseas land in return for investments. Land deals have already been struck with Laos, Indonesia, the Philippines, Vietnam, Cambodia, Pakistan, Thailand and Burma in Asia; Ukraine, Kazakhstan, Georgia, Russia and Turkey in central Asia/Europe; and Sudan and Uganda in Africa. Realising that oil revenue alone cannot feed their populations, as seen in the recent global food crisis when food disappeared from the supermarket shelf, Gulf countries are investing for future food security needs.
China is emerging as a major player in this land grab. After having increasingly divested its farm population from agriculture and moving them into the cities, China is now on a land buying spree. With some 30 land deals already known to have been signed, mostly in Africa, Central Asia, Australia and the Philippines, China has also prepared an agricultural policy on outsourcing food production. Most of these deals are being executed in a hush-hush manner. Interestingly, while China is looking for land outside its territory, agribusiness companies from Japan, South Korea and America are taking control over its own agribusiness activities.
The population shift in China - pushing farmers out of agriculture and moving them into the cities - has taken a heavy toll of the social fabric, marred by social unrest, often bloody. China Daily, the official organ of the Chinese government, had reported a massive increase in rural protests - from 10,000 a year some 11 years back to over 75,000 in 2005-06, which means roughly 250 protests a day. Rapid industrialisation in the countryside had played havoc with a sustainable farming system, thereby necessitating the search for farmland outside the country. India too, in a blind race to catch up with China, is following the same faulty prescription.
Egypt, which recently was faced with food riots, stirred a hornet's nest, when it was divulged that a deal was underway to lease 840,000 hectares - amounting to 2.2 per cent of Uganda's farm land - for wheat and maize production to be shipped back. Ironically, at the same time, Egyptian farmers in Qena district were fighting a long-drawn battle to recover 1600 hectares of land owned by a Japanese agribusiness giant, Kobebussan. Many other countries face the same dilemma - while they are looking for land elsewhere, their own farmlands are being taken away by foreign companies.
According to a report, Seized: The 2008 Land Grab for Food and Financial Security prepared by the Barcelona-based GRAIN, food corporates from Japan - including Asahi, Itochu, Sumitomo and Mitsubishi - have between 2006-08 leased and purchased land in China, Brazil, Africa, and central Asia for organic food production. No wonder, with Japan not allowing corporates to own farmland, these companies are looking for greener pastures everywhere. South Korea, where the government is supporting outsourcing, is buying land in pristine Mongolia, thereby threatening one of the world's naturally endowed ecosystems.
Financial companies and others have even been using bailout packages from various governments to move into this land grab. Goldman Sachs and Deutsche Bank are eyeing a takeover of China's livestock industry. Morgan Stanley has purchased 40,000 hectares in the Ukraine, where Landkom, the British investment group has also bought 100,000 hectares. The two Swedish investing firms, Black Earth Farming and Alpcot-Agro, have purchased 331,000 hectares and 128,000 hectares of farm land in Russia, respectively. South Korean giant Daewoo has brought in the mother of all land-grabbing deals; this month it unveiled a plan to farm some 1.3 million acres in Madagascar - half the size of Belgium - to produce corn and palm oil.
The political economy of food is certainly being rewritten, with grave implications in store. The global financial meltdown had privatised the profits, and socialised the losses. Outsourcing food production will ensure food security for the investing country, and leave behind a trail of hunger, starvation and food scarcities for the native populations. Only the environmental tab of the highly intensive farming - devastated soils, dry aquifers, and an ecological system runied by chemical infestation - will be left for the host country to pick up.