Radhikabai Advasi has a reason for worry. It's half past ten and the labourers have not yet reported at work. "Ab inke piche kaun jahawega (Now who will go searching for them?" she murmurs to herself, a bit angry. The women agriculture labourers she is waiting for have to complete the work in her farm today. Otherwise the dangerous pest would eat up the grain if it is not plucked and separated from the crop, she fears.
Rattled by the very thought of devastating ramifications of not completing the work today, Radhikabai calls a village boy and asks him to go to the next village and see if some women were free today to work on her farm. "Tell them I need them for 'nindai;' I'll pay 30 rupees per head." The boy says okay and obeys her order. After half an hour he comes with good news. "Eight of them are coming," he tells her. She hands him a note of Rs Five for having done her job and thanks him. Minutes later, a group of eight women from neighbouring village arrives in this village called Batera and exchanges pleasantries with her. The work begins much to the respite of Radhikabai. But, she soon discovers that it's already late. The pest has wrecked the crop to a large extent.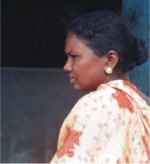 Radhikabai Advasi, a tribal woman, is the custodian of her small farm since her husband has migrated to Nagpur as a construction labourer.
It's a peculiar situation. Radhikabai is not the owner of this land. She just happens to be the custodian of 15 acres by virtue of being Jeevanlal's wife. A Halba tribal who is among the only three farmers in this village to own over ten acres of land, Jeevanlal has gone out for work, despite such a large land holding, this year. Why? He is in the midst of a serious crisis. Three years of drought left him under the burden of loan. This year it has been a good monsoon. But, Jeevanlal could not afford to depend only on his agricultural yield. Much of his income from the farm would go in repaying the debt. And, that's why he moved out, leaving the responsibility of agriculture on Radhikabai. The woman has since been managing the show. Like many other women of her village do after their men deserted the village and migrated for an extra-income.
So, despite a bountiful monsoon (2003), Radhikabai says she won't get good returns. "Half of the yield would go into repaying the loan and the rest would be eaten up by the pest," she says. The labourers did not come in time as per the promise. They must have stuck up with some other job, she complains. "No, no. That chap - the one having a pump in his farm - must have offered them better wages," feels one of the women labourers.
Finding agriculture labourers, Radhikabai says, is becoming a big problem in their villages. This, in a land that supplies cheap labour in abundance to cities, like Nagpur. "So much of work is to be done and our men have already left the villages. What can we do alone?," Radhikabai asks helplessly. The problem is more compounding since agricultural equipment are not women-friendly, she notes. Much of her time goes in fetching the labourers, she says. Then, she has to bargain a lot on wage-structure. Rs.50-70 per day is considered to be a good wage.
Labour problem and migration – Radhikabai has just identified rural Chhattisgarh's most pinching problems. Despite repeated claims by the Chief Minister Ajit Jogi, migration from Chhattisgarh hasn't been plucked. Many of the villages in Rajnandgaon, Durg and Kawardha districts are still awaiting work and decent wages. For a state having 80 per cent of its population dependent on agriculture, migration is not a small issue. In tiny villages, where each family's land holding is not more than five acre, it may spell doom for the people and shatter the village economy like anything.
Good monsoon won't help if there's no workforce left here, Janendra Kumeti, a Gond tribal, says in Jatadah village. Seven families fled this village only today. All of them have a little less than three acres of land each, informs Baidnath Bhavaria to support their decision to migrate to Karim Nagar. Ironically, the seven families have left the old and the young ones to take care of their farms. "Tell me, how will that poor old lady slog in the farm and feed herself and her grand-children?" Janendra wonders as he takes me to the homes of those who've just left. "If a village loses its quality workforce to the cities, it's disastrous for us and the government does not understand this," notes Baidnath. It's like India losing all her quality engineers and doctors to the US.
Problems are complex and policy-driven. The state is yet to take strides in irrigation sector, though it speaks of a policy on papers. Water, in some villages, comes with a huge tax. In many water tax is paid to either the village panchayats or the pani-panchayats. That ranges from Rs 60 to Rs 90 per two hours per acre. Year after year, the land holding is reducing, due to division of property or, in many cases, accessions by the private usurers against loans. But the government has no plans to start the rural credit system to support the farmers. Evidently, the illiterate villagers are not aware of crop insurance scheme in this belt. And the government machinery, which goes overboard to portray the "thousands of works of the Jogi government in thousand days," never cares to tell them about it. Food for work programmes don't exist in this state practically, though the government says it's working on it.
What do people do then? They move out leaving the women, the old and the children in the villages till the next monsoon sets in. The men start coming back in May, to gear up for the next agriculture season. Many of them do shift their locations over a period of time, but not all do that. They spend roughly six months in the cities where they find work usually from December. This pattern is changing too. In 2003, I found that the men left for the cities as early as September.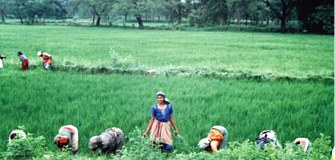 Women labourers busy working on a rice farm of a village in Chhattisgarh.
What happens, in the meanwhile, is a process being called 'Feminisation of Agriculture'. That women work in farms is nothing new. But the women having to virtually become custodians of their land in the absence of men, is something new. In Khamera village near Rajnandgaon, nearly 80 per cent men move out every year for work, the Sarpanch informs. "Women do the ploughing, sowing and all other work," says Meghnad Chandravansi. "This year, a big farmer had come from Sagar in Madhya Pradesh to our village. He wanted these women to go to his village and work as agriculture labourers. Our women labourers are in demand there because they can do all the work and at comparatively cheaper wages," he laments.
Several issues crop up in the wake of migration leading to feminisation of agriculture. Neither Chhattisgarh government nor Madhya Pradesh government has envisioned this process in the policy planning. But, it's an issue that calls for an immediate policy to stop the massive exodus of men from their villages to the urban centres. Not only does the exodus cause labour shortage and hence affects the agriculture yield badly, it also renders huge land barren in the absence of agriculture labourers in the villages. In such cases where only men migrate for work, women have to shoulder all other responsibilities, including, importantly, agricultural activities.
Shortage of labourers due to migration places an upward pressure on the wages. But many women employers are unable to cope with this.

Secondly, when men move out – most of whom are marginal farmers or landless – their women slog in the farms. It also means a loss of labour for the farmers when they need them most. Shortage of labourers effectively raises the wages of the farm labourers. This in turn forces the women agriculturists to abandon their farms since they can't afford to pay good wages to the remaining labour despite good monsoon.
The crisis is more biting in two adjoining districts of Madhya Pradesh – Seoni and Balaghat. The rice producing districts now depend more on women for their agriculture than the migrating men, say agriculturists in these districts. Migration, in Balaghat, has more or less been accepted as a better avenue to earn money than doing the farming back home. Two youths, Lalit Bisane and Sarwanlal Dahare, tell me in Choti Kumhari village on Balaghat-Lamta road that the government does not even reach in this area.
Every village on this road has half its population in cities like Nagpur, Chandrapur, Bhopal, Karimnagar, Hyderabad etc. Farmers at home, they work as construction labourers in the cities. What do women do in the village then? "Oh! They are the ones who do farming now," says Lalit. "In fact, my mother is doing the same since my father stays for six months in Nagpur," he informs. The Balaghat-Lalbarra-Seoni road has villages where the contractors line up seeking labourers for construction work in the cities. Women in all those villages take care of on and off-farm activities. "Like Chhattisgarh, Madhya Pradesh too lacks irrigation facilities. There's an absence of micro-level planning at Gram Panchayats and there's no policy on recruitment of local population in development works," points out social worker Avinash Jhade.