The Election Commission of India (ECI) has finally taken a step to clean up the nation's electoral rolls and wipe out irregularities. In a first, the ECI has launched a programme which aims to eliminate duplication and deletion of voter entries in the voter lists.
The National Electoral Roll Purification and Authentication Programme (NERPA), which was launched on 3 March, will link a voter's EPIC number with his\her Aadhaar card number. The linking will enable ECI to access bio-metric information through the UID and thereby eliminate duplicate entries made in the same name.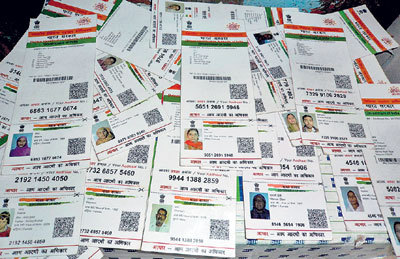 The move is not only the first dedicated attempt to clean up electoral rolls, but also a major step forward from what has been a primarily manual process of updating to a technology-driven system. Dhirendra Ojha, director, ECI explained, "Through this, we want to access the bio-metric information that Aadhaar cards have. Once the numbers (EPIC and Aadhaar) are linked, we will be able to see if there are multiple entries of the same voter. Also, it will help ascertain the voter's location," said Ojha.
The recent press release by the ECI clearly states that the objective of NERPA is to have an error-free and authenticated electoral roll in place. In addition to a comprehensive door-to-door survey, the Commission will also host a nation-wide camp open for voters to go and furnish their EPIC and Aadhaar details.
Voters will also be allowed to provide this information through authorised voter facilitation centres, e-Seva centres and citizen service centres. Besides, they can link their EPIC and Aadhaar details through the National Voters' Service Portal on its official website, mobile apps, sms or by calling the state call centres.
Ojha clarifies that NERPA is deadline-driven and they hope to wrap up the drive by August 15.
HOW TO LINK YOUR EPIC NUMBER WITH AADHAAR NUMBER
Log on to the National Voters' Service Portal on the official website of the Election Commission


SMS (as per details provided on the National Voters Service Portal)


Call 1950 to reach state call centres


Furnish details to regional election officers at Voter Facilitation Centres, e-Seva Centres or Citizen Service Centres


Special camps will be organised of which the ECI will inform the people shortly

Can NERPA clean the rolls?
Individuals and organisations working for citizen rights and good governance have repeatedly pointed out that electoral rolls have always been full of errors. There are several instances of duplication, primarily due to people shifting houses or cities, deletion, non-elimination of those who died, to name a few. The skewed data not only deprives many of their right to vote but also encourages bogus voting, misrepresentation of voting patterns and margin of election victories.
A recent survey conducted by the Bangalore-based Janaagraha Centre for Citizenship and Democracy on the state of Delhi's electoral rolls across eight constituencies revealed that one third of the capital's voters were untraceable. About 21 percent had moved houses; 11 percent addresses couldn't be found; about one percent was either dead or disenfranchised while 7 percent had errors with registration details. The figure was perturbing, considering that Delhi was on the verge of assembly polls when this study was carried out.
Given such a scenario, NERPA might offer a solution.
"Errors in the rolls is a perennial problem and this programme may offer us a much-needed solution. Having understood that manual checking has its limitations, the ECI is turning to technology to clean up the rolls, finally," said Sharad Kumar from AGNI (Action for Good Governance and Networking in India). "The task at hand is mammoth, but such an effort could only improve the situation," he added.
AGNI has been highlighting "illegitimacies" in the electoral rolls in Mumbai. Last year, it had filed a PIL in Bombay High Court stating that more than two lakh voter names were found to have been deleted ahead of the Lok Sabha elections in the state.
However, since NERPA comes with a deadline and is based solely on its linkage to Aadhaar, it is likely to exclude a significant part of the population, thereby limiting its success in achieving the stated objective. Anil Verma, head of the Association for Democratic Reforms, points out that Aadhaar is an ongoing project and one that seeks voluntary participation. "Those who still don't have an Aadhaar card will be out of the programme's ambit," he said.
The fact that the voting population keeps changing (people may die, or change houses and cities) makes it vital to update the electoral rolls regularly. "It isn't clear whether the ECI will repeat the exercise and if so, how frequently. Changes have to be updated regularly to avoid duplication or dead entries," Verma said.
He however added that the move to clean up the electoral rolls is a positive one and feels that India ought to eventually have one comprehensive electoral roll; death registries ought to be automatically linked to the ECI too, so that they can strike off the names of deceased voters.
NERPA, feel most observers, will work only if it expands to ensure that other anomalies are also corrected, such as clerical mistakes involving erroneous recording of registration details.
Vivek Anandan Nair, researcher at Janaagraha, who was part of the survey on Delhi's electoral rolls, raises the same concerns. He also points out that while this process might be useful in maintaining the rolls, it will not achieve much in terms of enrolling new or hitherto excluded people for voting.
ECI officials say that all these concerns will be addressed over the next few months, depending on how the programme fares. "This is the first time that we are conducting a drive like this. We will review the success and shortcomings of the programme after it is complete and evolve it further in tune with varied needs that emerge," an ECI official said on condition of anonymity.