Chennai-based Dr Ruffles is extremely popular with children. His treatment has helped several non-verbal children with autism to speak up, aided those with attention deficit disorder and other learning disabilities to improve their performance in school, and even resolved complex behavioural issues in many of his little patients.
Quite incredibly, though, the good doctor has accomplished all this without so much as uttering a single word or writing out a prescription. Indeed, he has become the hugely successful therapist he is by simply being himself – a non-judgmental, attentive and very affectionate dog!
Ruffles is the resident 'doctor' at the Saraswathi Kendra Learning Centre for Children run by the C.P. Ramaswami Aiyar Foundation. He is part of their innovative 'Dr Dog programme' that was launched in 2001 with the assistance of the Animal Asia Foundation (AAF), a Hong Kong-based charity founded by Jill Robinson, which provides animal-assisted therapy especially to children with special needs.
It all began in 1991 when Robinson trained her gentle golden retriever to become "Dr Max". He was allowed to spend just one hour in the garden of Hong Kong's Duchess of Kent Children's Hospital but the smiles he brought on the face of one paraplegic boy simply amazed his caregivers.
Ever since then, the AAF has trained and certified over 1,000 'Dr Dogs' to spread the healing touch across several countries, including Taiwan, India, the Philippines, Japan and Malaysia. These furry friends are not only "attached" to orphanages, old age homes and hospitals to cheer up their inmates but are also roped in to provide actual therapy to special children.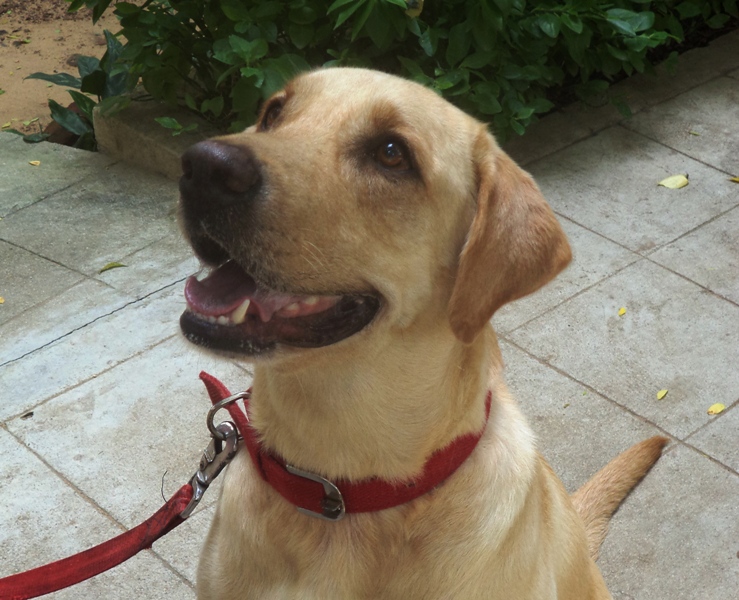 The canine healers
The Dr Dog programme at Saraswathi Kendra took off following an interaction between Robinson and Dr Nanditha Krishna, Honorary Director of the C.P. Ramaswami Aiyar Foundation. Dr Krishna personally went about understanding the ins and outs of the qualifying training as well as the assessment procedure for the dogs and eventually it was her own dog Moosa that became India's first certified Dr Dog.
Initially, the Saraswathi Kendra had coordinated with both the AAF and the Blue Cross of India, an animal welfare charity based in Chennai, for this initiative. Today, however, it aids psychologists and therapists from other institutions to choose, train and register their own Dr Dogs.
As not every dog can be trained to be a Dr Dog, it is crucial to choose the right one for the job. According to Dr Krishna, "A Dr Dog has to be calm and friendly, with basic obedience skills. For instance, Ruffles wouldn't mind it even if you were to pull his toes one by one. Other dogs might not be so benign. Ultimately, it's the nature of the dog and not the breed that makes a real difference, although Labradors and Retrievers do have a pleasant disposition that makes them perfect."
Once chosen, the dog is trained by a personal handler and later assessed and certified. Additionally, it needs to be neutered, vaccinated and kept clean. However affable a Dr Dog may be, the presence of its trainer/handler is mandatory during a session. "The animal is always accompanied by his handler and a therapist. Moreover, it is always on leash though it needn't be tied up. The leash serves as a reminder that it has to be obedient at all times," points out Uma Nagarajan, a volunteer, who helps out with therapy sessions at Saraswathi Kendra.
A child's best friend in school
In the warm and loving presence of Dr Ruffles, the special children learn to open up and interact, they are taught how to read and count as well as improve their language skills and vocabulary. So, what makes this affable canine such a resounding success?
"Well, dogs are non-threatening and give unconditional love and attention. There is no fear of failure, rejection or insecurity in his presence. Some of the children may not find it easy to break the ice with adults or even with their peers but a sweet-natured dog appeals to everyone and instantly puts them at ease," elaborates Dr Krishna even as she paraphrases writer Ben Williams, who has famously said: 'There is no psychiatrist in the world like a puppy licking your face!'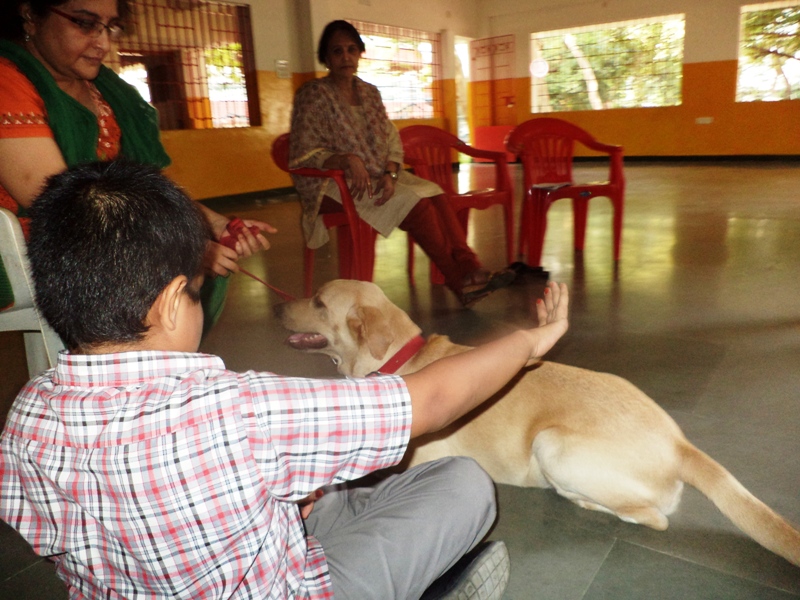 When Dr Ruffles is around, children who are usually holding back due to their disability don't feel stifled, inferior or inadequate. Very quickly, they gain the confidence to speak up, be themselves and attempt tasks that they ordinarily would avoid. They always respond positively to the activities that resident clinical psychologist R Madhu asks them to do.
For instance, 'Ruffles wants you to count to 20 loudly' or 'Ruffles wants you to take a deep breath whenever you begin to stutter so that you are able pronounce the next word without faltering'. In fact, his attraction is such that those who otherwise don't want to go to school also make it a point to get to class everyday just for an opportunity to meet and play with Dr Ruffles later on.
"When Ruffles is introduced to the children we tell them that he understands English - or whatever language they know - and that they can talk to him freely and play with him as much as they want to. Subsequently, we ask them to attempt to do things. Deep down, the children are aware that the instructions are not coming from Ruffles but they nevertheless do everything because his being with them instinctively motivates them to react favourably to the instructions being given," reveals R Madhu.
Today, the affection and undivided attention of Dr Ruffles has enabled 11-year-old Shankar, who has borderline autism, to get over his habit of making repetitive statements, particularly saying: "I'll hit you with a stick". Once he started visiting Saraswathi Kendra and spending time with his favourite Dr Dog, Shankar became comfortable enough to tell him that he doesn't like to say such things and would like to stop repeating his sentences. With Ruffles' support, the therapist was able to work with the child and produce encouraging results.
Even nine-year-old Vishal spoke his first-ever words to Sachin, the former Dr Dog at Saraswathi Kendra, when one day during therapy he suddenly asked him: "Sachin, I ate upma (South Indian khichdi) for breakfast; what did you have?"
"A Dr Dog like Ruffles acts as a facilitator," shares Nagarajan, "If there is a child with behavioural issues, we tell him that Ruffles doesn't like it and at once s/he falls in line just for him. With constant therapy there may come a time when the child may not need the doctor dog anymore but by then the learning is ingrained. Dr Dog's effect lingers on."
Truly, Dr Ruffles is the best friend a special child could ever have. (© Women's Feature Service)