Against the backdrop of Sealdah station in Kolkata, shimmering in the glow of small lights adorning the brick red-and-cream building as its way of celebrating the festive mood of Durga Pooja, a drummer on stilts is playing on his drum. A juggler tosses hats in front of the dhaki. They are giving an impromptu performance to the audience that has gathered around. It is Durga Pooja in the city.
This is a scene from Divine Drums, a 67-minute documentary by Viplab Majumder. These drummers or dhakis arrive at Sealdah station from their villages in Murshidabad and Behrampur looking for work. The changing times, and the lack of government support for their performing skills have brought their music to the brink of extinction.
"I wanted to make a documentary on the cultural contribution of these dhakis, whose drum beats bring every Durga Pooja mandap to life with pulsating spirit, energy and vitality," says Majumder. "For me, the film marks the fulfillment of a long-nurtured dream. When I was a child, at the Durga Pooja in front of my house, I would watch a dhaki perform every day during the festival. I was fascinated. I went to one of the organisers and wanted to know his name. He did not know. Though I was just a boy, I was shocked to know that this person, a performing artist in his own right, did not have an identity. He did not have any geographical roots we knew of. Yet, he was an artiste of high merit.
"Perhaps the idea took root at a sub-conscious level and after many years, I decided to make a film on these traditional performing artists. Now their situation is even worse - their experience now stands threatened by poverty and the complete negligence of the State and Central government to take responsibility for them and for their art form."
Nikhil Rabi Das of Gulzarbag says, "I do not think our children will take up this instrument because there is no money in it." The frame shows him mending a shoe with his dhak beside him on a rough roadside. His cycle, symbolising his nomadic lifestyle, rests on a fence. Beside his cobbler's tools stands his drum. He mends shoes and repairs umbrellas when there is no call for the dhak. "We are dhakis by birth. We cannot give up the dhak because it is a ritual of worship we consider sacred. It is our tribute to the Mother. But I do not think my children will take it up after me. The work is seasonal and pays much less than the labour and the money we put in for buying the instrument or replacing it when needed."
A young man who trains with a group of six in Andiron in Beldanga explains how different rhythms and beats are used for different rituals. He says different compositions are used for different occasions even during Durga Pooja . one when the Goddess is being taken to the mandap, one when she is welcomed, one when she is being worshipped, one when she is taken to the ghat for immersion, another one for the actual immersion ceremony changing with each ritual performed at the mandap.
Dhanpat Das, the oldest performer and master, who passed away during the making of Divine Drums, explains with his book of detailed notations how playing drums is a science to be learned under an expert master and then practiced for perfection. The film crew visited the family again after his demise and closed in on his framed and garlanded photograph on the walls of their ramshackle hut flanked by his feather-decorated drums decorated with floral printed cloth.
Shot over one year and preceded by another year of field research,
Divine Drums
travels across villages in Murshidabad, and also through parts of Behrampur to Horpur in Birbhum drawing colourful portraits of their grey lives committed to the sacred rhythms of the
dhak
.


• Remembering Janam

The film travels to Notun Colony in Murshidabad. Niranjan Das, a drummer, can beat out his sentences on his
dhak
. Most of the villages are devoid of proper roads and electricity, and the bicycle is the principal mode of transport. Boards in the backdrop show that there are
anganwadis
in some places but the children can only be educated to the primary level. The boys learn the trade from their father while the girls are married off young. He explains how the end-skins of the drums are crafted out of cowhide and goat skin.
Teenbandhu Das, one of the dhakis, informs us that the history of the drum goes back to Joy and Bijoy, two celestial brothers who are said to have descended from heaven and invented the drum. During the rule of kings, drummers wandered around the city as announcers calling attention to whatever the king wished to announce and pronounce. The drum is also traced back to the hunting tradition of kings.
Teenbandhu says he learned to play the dhak from his father, who was a master craftsman in making the drums; the family business is now being continued by the next generation, Teenbandhu's son is helping his father out as he continues the trade.
"There are twelve kinds of percussion instruments, and I can play them all. The trunk of the mango tree is ideal for the body of the dhak. We also use the Babla, Shirish and Neem trunks but the quality differs. There is no scope for industrial manufacture as this is purely a handicraft," says Sunil Das. Bidhan Das who also crafts drums says that the neem is the best, but it is very expensive. They carry on the trade mainly with loans from friends and relatives as they have no savings of their own. "We have no access to bank loans. Nor do we have government funding. We sometimes have either to mortgage our utensils with the buyer or sell them off to keep the business running," says Bidhan Das.
Despite its grim story, Divine Drums is a wonderful film that explores an ethnographic lifestyle and performing art we know little about, and also becomes a human interest story by virtue of its objective analysis of the dhakis' poverty-stricken lives. Produced by Muhurt Arts in association with Vidyut Films, Divine Drums has been cinematographed by Kaushik Mandal. Shounak Ghosh has edited the film and Dhiman Karmakar has done the sound design.
Shot over one year and preceded by another year of field research, Divine Drums travels across villages in Murshidabad, such as Pasthhubhi, Andiron, Kandi, Beldanga, Gulzarbag, and Jojaan, and also through parts of Behrampur to Horpur in Birbhum drawing colourful portraits of their grey lives committed to the sacred rhythms of the dhak.
The film is beautifully structured. It opens on a field lush with kaash flowers that bloom just before the Pooja, the strains of the Chandipath overlapping the visuals in the voice-over of the late Birendra Krishna Bhadra. A collage of shots follows - trains rushing into Sealdah station, the river Ganges with Dakshineshwar temple in the distance, men taking a dip in the holy river on Pitru Amavasya, Durga idols in different stages of completion, idols being bought, installed and worshipped, cutting to comments by eminent musicians and scholars.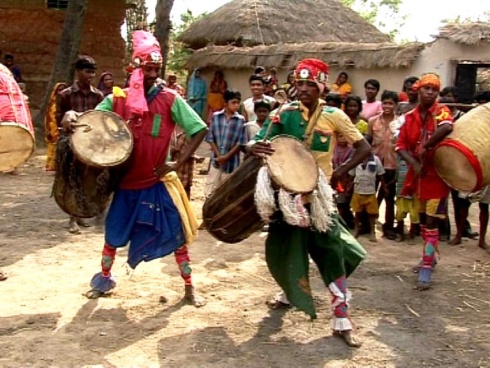 The performers deck themselves up in all colours in every kitsch way possible.
The film ends with sindoor khela, dhunuchi naach and bisarjan, to come back to Sealdah to capture the dhakis going home. The sound of drumbeats and the drummers. performances make a background score redundant. The film throbs with the pulse of the people in the city and villages with smiling and cheerful faces of a little girl or an infant boy peeping from one corner of the frame. The film is filled with a spirit of cheer and entertainment though it also traverses the tragic, poverty-stricken lives of the drummers. The dhakis do not believe in wearing their sadness on their sleeves or their faces. Some of the younger women hide their smiling faces when the camera tries to catch them while others are more forthright and talk about how difficult it is to make ends meet in this profession.
Lolit Mohan Das demonstrates his command over playing on four drums at the same time with circus-like acrobatics. An ace drummer with shoulder-length hair, he performs with his troupe dressed in shimmering yellow silk costumes. He was invited to Russia in 1987 as part of a 11-member delegation to celebrate the installation of the statue of Indira Gandhi by the then-President Mikhail Gorbachev. But this recognition was short-lived and didn't help his finances turn a new page - at the end of the trip he was back to square one, on the edges of poverty. He says that he used to ply a rickshaw earlier, and his brothers still do. For one performance, he holds one dhak by his teeth as two hang from each shoulder. His drums are aesthetically decorated with floral cloth frilled at the edges and adorned with feathers.
"When the festive season is not on, the drummers ply rickshaws, hawk fast food on the streets, sell sherbet and engage in small trade or migrate to engage in construction work in Mumbai, Bangalore, Hyderabad and Delhi, work as cobblers, repair umbrellas and so on. The women often try to help in by rolling bidis," says Jiban Das of Jojaan in Murshidabad. "Sometimes, some are also driven to prostitution to keep the kitchen fires burning though I have not shown this in the film," says Majumder. Jiban Das was also part of the delegation to Russia, but he laments that despite their repeated appeals to the government for help, not once has any come forth from any quarter.
The dhakis of Murshidabad mainly play a complementary role in festivals offering a musical backdrop to the pooja that is the focus. But the drummers of Hopur in Birbhum who are Mirdhas, are mostly individual performers. Everyone in Horpur village is a dhaki. Ratan Mirdha is ninety years old. He smiles and says that he will continue to perform till he reaches 100. The performers deck themselves up in all colours in every kitsch way possible . colourful head gears, printed shirts, watches, goggles, leg-pads, ankle bells and so on.
"The music of the drums connects to the beats of the human heart. It is a part of our environment, a tradition that is a part of our lives and so long as rites and rituals remain, this leather instrument, the dhak beat will remain too," says Ratan.
"The concept of the film dates back to the era of mythologies, with white-bladed kaash flowers blowing in the wind they way they used to when Durga and Apu ran through the fields. The dhakis too, are around since we have been celebrating these festivals. Through this film, I have tried to make a statement with my humble exploration of this art form, on the verge of extinction. I've also tried to show the plight of the dhakis, who languish in absolute anonymity, with no assistance from either any government body or from any NGO. They are unsung heroes who usher a fountain of joy and festivity in our minds but are largely under-feted for their humongous contribution," Majumder sums up.