The Uttarakhand floods and Cyclone Phailin, which ravaged the coast of Odisha and Andhra Pradesh in 2013, have illustrated how the effects of climate change can erode development gains, greatly impacting the lives of the poor, especially women.
As able-bodied men move away from unproductive and low-paid agriculture, more women are taking up agricultural labour leading to what is called 'feminisation of agriculture labour.' A majority (87.3 per cent) of women work in rural areas and female marginal workers outnumber male marginal workers among cultivators, agricultural labour and household industry.
India is in general election mode in 2014, and 'development' is going to be a key electoral plank. The country has been witnessing declining per capita availability of foodgrain in the recent past, and climate vagaries are already affecting crop production, milk yields and fish harvests. However, political parties can no longer promise development without factoring in climate change and addressing related gender concerns. A good place to start doing this would be to give teeth to the emerging State-level Action Plans on Climate Change (SAPCCs).
Modelled on India's National Action Plan on Climate Change (NAPCC), the state-level action plans are mandated to chart out a climate-resilient development road-map for each of the states, addressing both emission reduction and adaptation to climate vagaries. Since climate change affects all areas of development . food production, safety from disasters, education, health, physical infrastructure and energy security . these ambitious plans have involved a huge inter-departmental exercise, steered by senior-most bureaucrats. The plans reflect the development priorities of the ruling political parties.
The seriousness with which these plans are being drafted and the quality of the end product are both variable. Some states like Madhya Pradesh, Uttarakhand and Odisha organised several consultations with different stakeholders. Sikkim took the process very seriously, genuinely trying to usher in climate-resilient development. In Uttar Pradesh, the process has been a slow one and simply getting all the departments interested in the exercise has been a challenge.
Politicians have been almost uninterested in the making of the SAPCCs, though climate change is already leading to developmental losses in many of the electoral constituencies of the state legislators. The pulling together of the climate plan has essentially been a bureaucratic exercise.


• Missing the mountain for the snow
• Entering the environment

In West Bengal, a more structured approach was followed, but there was almost no public interaction though the Central guidelines mandate public consultation as part of the plan formulation process.
Development is central to all climate plans. The plans build on existing policies and programmes, and, in some instance, even add to them. Yet, most of the proposed actions are business-as-usual development initiatives, not adaptive or climate-resilient. Thus, for instance, 'sustainable agriculture' is heavily biased towards biotechnology (including genetic engineering) for raising farm productivity and soil carbon content, and concentrates less on promoting low input farming practices that would help the predominantly small and marginal farmers increase soil fertility and soil moisture in the wake of climate-induced floods or droughts. Afforestation activities put more emphasis on carbon sequestration than on protection of forest-based livelihoods for 350-400 million people, primarily tribal and women.
Politicians have been almost uninterested in the making of the SAPCCs, though climate change is already leading to developmental losses in many of the electoral constituencies of the state legislators. The pulling together of the climate plan has essentially been a bureaucratic exercise, with inputs from climate scientists and drafting help from bilateral and multilateral agencies.
Several of the plans propose climate cells within departments or an overall climate authority. At this moment, the state climate action plans still fall short of being able to usher in a more inclusive and resilient growth. What this implies is that 'development' may just be a red herring five years from now.
Growing literature and empirical studies show that women are more vulnerable than men to climate change impact and have different capacities to adapt to these changes. The authoritative Fourth Assessment Report (2007) of the Inter-governmental Panel on Climate Change (IPCC) states that "the vulnerability of women in agricultural economies is affected by their relative insecurity of access and rights over resources and sources of wealth such as agricultural land." Women have lesser education, resources, opportunities and authority to reap the benefits of development. Climate change is only deepening this divide.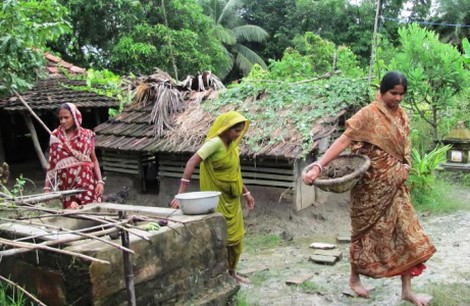 Women suffer first and worst but they can also be part of climate solutions.
PIC CREDIT: Subhrajit Dutta Mallick/WFS
The national and state-level climate plans have largely ignored the gender dimension. A few state plans have integrated gender in the later versions of their drafts. Women suffer first and worst, but they are also part of climate solutions. Strengthening climate plans with gender-based participation, therefore, must become part of the electoral manifestos in the run up to the 2014 Parliament elections.
Recent events show that the climate for change is here. Witness the 'aam aadmi wave' in recent electoral politics, and the sudden political reverence for an anti-corruption measure such as the Lokpal legislation. Take the growing societal engagement with issues such as gay rights and violence against women. The bottoms-up adoption of the digital economy has also been successfully used for many a transformative development initiative. The time is therefore indeed ripe to move from the obvious to the substantial . address the drivers of change rather than the consequences of change. Based on the state-level climate action plans, state governments can become the engines of resilient development and far more accountable to its people.
With 50 per cent reservations for women across all Panchayat institutions, it is time to enable women to hold the reins of decision-making for resilient development on the ground. After all, climate change adaptation is about local resources and local knowledge. Will the deafening silence of political parties on climate change and inclusive development persist? Or is India finally going to shine?