There are apps, and then there are apps. Apps that aim to track your health, your money, your entertainment, your child's school progress, your running miles, your fashion quotient, your time and so many other aspects of your life. Standing a bit apart in this app-manic world is the recently launched Equalize, an app that aspires to leverage the innate goodness in each one of us, and in the process, lead us to a more equitable society through our own contribution.
Equalize, a mobile app launched in August this year, is created by an all-women team from The Institute of Customer Experience (ICE), a not-for-profit initiative by Human Factors International. This mobile app offers a range of possible interventions that you – as an individual – can bring about, in the affected area of your choice. It does this in an engaging manner, so more from your social circles will be motivated to contribute to social good.
Apala Lahiri Chavan, Futurist Braveheart Kunoichi and CEO of ICE elaborates on the germ of this concept, "Our métier includes creating experiences that will lead to a better world. We are also futurists who are interested in an inclusive future. Hence, as our first priority, we are interested in leveling the playing field for all. In other words, we wanted to find a way that is aimed at enabling people to help reduce inequalities around them through individual agency and not just by relying on institutions to get this done."
The emphasis of this app is on just that – individual agency. During the research phase of Equalize, the team realised that in order to leverage this power of the individual, they had to first combat one huge, commonly prevalent mind block: "I want to help, but don't know how. I may get involved in something today, but tomorrow, what if I cannot commit enough time? I don't want to take up something I may not be able to carry forward…" Such apprehensions are very real, and Equalize aims to address such concerns through its design and functioning.
Let's take a look at how Equalize works:
The app highlights inequality – and urges you to remove inequality – in six areas around us: Income, Gender, Hunger, Education, Environment and Happiness.
You get a list of activities that you can actually do to reduce inequality in one or more of these six areas, based on your choice.
The activities range from easily doable (e.g. donating school books) to those requiring more effort and commitment (e.g. teaching an underprivileged child in your area). You choose what you can do, are interested in doing, and can commit to.
As you complete an activity, you get "smiles" (Equalize points) depending on the activity. You self-report to the app, and your friends and family get to see and appreciate your work, and in turn, feel inspired to do their bit.
In order to engage and also motivate its users, Equalize offers playing levels and these are based on the activities completed. The levels are colour-coded so there is a constant visual reminder upfront, urging you to move to the next level. You are "green" till you are at level 4. Once you cross that and become an Equalize leader, your dashboard and notifications appear "golden." You can then also have followers and build your own community to do more good.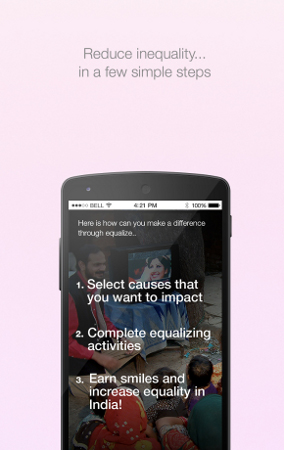 Equalize mobile app. Pic: Equalize
The key factor is the activities that the app suggests. And that's what has struck a chord with many Equalize users. Says Hitesh Agrawal, a senior business management professional who is constantly on the go for work, "I like the various types of causes to choose from and different activities you can do in each of them."
Chippy Diac, a design professional, says, "Usually I get stressed using mobile apps, but this one was a breeze to figure out. I love the list of things one can do, categorised into 'create,' 'organize,' 'donate,' and 'volunteer.' There is no ambiguity in the action points."
The first phase of the app was launched in India a few months ago. Based on the user feedback, iterations in the design are being worked out. Hitesh and some other users have reported that they would like the app to show a faster performance, and that is being tackled by the development team.
Says Dr Eric Schaffer, who heads a global design consultancy, and has used Equalize a few times, "What I like best about the app is the concept of finding ways to help equalise. I love the idea of it, even though I did not understand some of the suggested actions."
Design and performance challenges or feature additions can be incorporated in subsequent releases. According to Apala, "The biggest challenge lies in the fact that creating a better world is not headline news; murder and mayhem are! So an app that is only about creating a better world, ironically, needs a lot of hard work to grab public, media and app store attention."
Future plans for Equalize include reaching out to youth and even connecting with schools. A mobile phone is an extremely critical artefact in the daily life of youngsters and school children alike, and Equalize can very well offer children a legitimate reason to use a mobile phone, as Chippy relates from her own experience of sharing this app with some children she teaches voluntarily.
The path to creating an equal society is not easy at all, and Team Equalize is realistic in its acceptance of that fact. The end of a truly equitable society may still be at the rainbow's end, but the team is satisfied that Equalize is enabling many to take that all-important first step.
By offering individuals (and eventually corporates) to pick and choose concrete actions, they are hopeful that more and more individuals will be convinced to use the "power of one" to do greater good. More the activities they complete on Equalize, greater will be the effect on real-world conditions.
Rishi Kaashyap Balaji sums it up succinctly in his FB comment, "It is a fantastic tool for those who wish to be the change." And Chippy adds her bit, "I do believe this app will be successful in its core purpose of creating an equal society. It will take a long time, I'm sure. But I am happy to do my part and wait for the rest to unfold."