About 13 years ago, when Bhima Meher of Chamarpara in Orissa's Bolangir town's Shudhpara basti area stopped going to class because he was being beaten by his teacher, planners in Delhi were busy devising a special package for his district. Bhima's education ended because the teacher was punishing him regularly on complaints from children of another dalit community – the harijans. "Laxmi teacher discriminated against us", recalls Bhima. "That time the harijans were not ready to accept our children in the same class where their children studied because they considered themselves to be superior to us", says Dingra Meher, a resident of Chamarpara.
Bhima was studying in class two then and on that black day, when he was punished to the maximum, Bhima's dream to become a sarkari babu (a govt officer) also ended. Bhima, now 22, has taken to his family occupation of 'shoe polish' and earns about Rs.30 to 40 a day.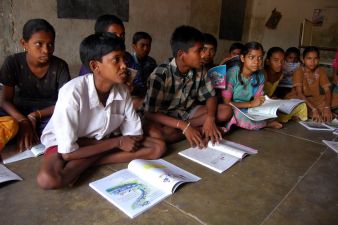 A few lucky chamar children studying in an school run by the National Child Labour Project. Pic: Ranjan K Panda
Dingra says that the discrimination has withered away with time but is clueless as to why most of the chamar boys still don't go to schools. Bolangir has now got one of the best teacher-student ratios in the state and crores of rupees have since been spent in education infrastructure. Pradeepta Kumar Naik, District Project Coordinator of Sarva Sikshya Avijan (SSA) says, "While the average ratio is 1:40, here in Bolangir its 1:32." In fact, it is the doomed state of development in this district and two other districts that invited special attention of the Government of India in the 90s. A Long Term Action Plan (LTAP) for the KBK( Kalahandi-Bolangir-Koraput) districts aimed at poverty alleviation and drought and distress proofing was formulated for a period of seven years from 1995-96 to 2001-2002. It had been formally launched by the then Prime Minister Narasimha Rao in August 1995, and since then eight districts have been added. A revised version of this programme is now continuing.
Have things changed for the chamars then? The picture is a complicated one. Bhima's basti houses about 100 chamar (cobbler) families and each family has about four to five children. However, only a few have the luck to go to the schools. Poor they are and so much contained within their traditional occupation that they hardly find it easy to study beyond Bhima's standard. But the National Child Labour Project (NCLP) has been operational in this district and the region has been offered some resources. "Things have definitely changed after the National Child Labour Programme", says Naik.
NCLP schools drawing students
The NCLP is an offshoot of the National Policy on Child Labour. Under NCLP, children are identified and released from hazardous occupations and processes, and subsequently rehabilitated and mainstreamed to the formal education system. The projects are managed by the Child Labour Project Society registered under the Societies Registration Act, 1886 and headed by the Collector of the District as Chairman of the NCLP. For some years now local NGOs as well as district administration have taken up management of these schools.
A visit to the Gatesarobarpara primary school, where Bhima read during his childhood, throws up a sharp story. "The NCLP schools have actually hijacked the children from the govt. primary and secondary schools", alleges Gatesarobarpara headmistress Sabitri Swain. "When I joined in 2005, there were more than 100 names in this school but most of these children were actually attending either the Beherapali NCLP school or the Daily Market NCLP school", she says. "Until recently, we were keeping their name in the register and even kept promoting them to the senior classes because the government has strictly ordered not to detain the children", adds she, reluctantly. "Now there are 38 children but only 18 are coming to school", she says.
"Earlier the harijans and upper caste people were considering us as untouchables but now the system has made us untouchables", says Dingra. "The teachers are not serious here and they don't bother if a child comes or not", complains Seshdev Panigrahi, local councillor. "Its not our fault", responds Swain. "Hundred rupees a month, that is provided as a stipend to the children in NCLP schools, is an allurement for the children", she points out. "The parents don't listen to us and send their children to work rather than school", complains Swain.
While the NCLP schools are not particularly better in their infrastructure, their teachers have much greater enthusiasm and dedication compared with the state government schools.


• Sitamarhi's lost children
• Midday meals not penetrating

"Development of the (Gatesarobarpara) school has been stopped for few years now and even funds meant for this school are now being diverted to the primary school at Sudhpara", says Panigrahi hinting at a grant of eighty thousand rupees that came for school building improvement in 2000 but was actually spent in the Sudhpara school. "This school has produced IPS officers but is dying of official apathy", adds Kashinath Nanda who took away his two daughters from Gatesarobarpara to Sudhpara because the teachers were not regular here and there was absolutely no extra curricular activity.
The Sudhpara basti which includes the Chamarpara is predominantly inhabited by harijans and chamars. Earlier there was only one school – the Gatesarobarpara school, where Bhima studied. But after the Sudhpara school (also a government school) was established, most of the parents who were serious about education took their children to that school because the building is big and there are more teachers too. That school now has 172 children including a good chunk of chamar students. But this school is also seeing children move to the NCLP schools.
"Students who were studying class V here have been taken by their parents to NCLP school to begin class II again", says Shabita Guru, headmistress of the Sudhpara Primary School. "This is a fact and the only allurement is the stipend of hundred rupees (per month)", says Naik. The district collector of Bolangir, R Santhgopalan however fails to find logic in this argument. According to him, "A child who does shoe polishing earns on an average five to six hundred rupees a month and that's why there is no reason why should he be interested in this stipend." The collector may have a point, but look at Justi Meher's case.
Justi of Chamarpara was studying class sixth in the Sudhpara school but last year his parents took him to the Beherapali NCLP school where he is studying class fourth now. And Justi is not alone. "There must be at least 27 such children in this village out of the total 50 who are going to NCLP schools" says Nabaghana Meher, who is about twenty five years of age, and is the highest educated boy of the Chamarpara and perhaps among the chamars of Bolangir town. He has passed class tenth and had got admitted in a higher secondary college but could not continue because of family economic pressures.
Nabaghana is perhaps the only boy in the Chamarpara who thinks there should be a school in the para itself because the children have to cross a railway track to attend schools. He had in fact tried to start a school with help of the Saraswati Sishu Mandir committee. "Some of their members came here a few years ago and assured to start a school, but that did not materialise", says Nabaghana. He is now imparting tuition to about ten students from his basti as well as nearby bastis. He is perhaps the only chamar boy in the area who does not prefer to do shoe polish.
While the NCLP schools are not particularly better in their infrastructure, their teachers have much greater enthusiasm and dedication compared with the state government schools. That coupled with the stipend is drawing children. "Earlier no one was coming to our village. The NCLP officials came at least and persuaded us to take our children to school. Further, they are also paying Rs.100/- as stipend," says Ekka Rohidas whose son Bhika Rohidas goes to the Beherapali NCLP School.
Unable to escape labour
But the NCLP schools are having their own problems. One, visiting the Daily Market NCLP School would find sixteen children of Chamarpara in the register but all don't come daily. "We have been trying to convince them but they have to work, their parents argue", says senior instructor Antaryami Patel. However, this NCLP school may still have made the impossible possible. "May be for the stipend and the egg, but their attendance has not been as discouraging as one sees in a government primary school", adds Patel. This school has 35 students most of whom are from the chamar community and some of its ex-students are now at the high school level too.

Learning polishing lessons early, from grandpa. Pic: Ranjan K Panda.
Still, attendance in itself does not mean education. The reception ability of the children is not up to mark. "In a survey conducted under SSA, we found that not even five per cent of the total children in Bolangir's schools are up to the mark in achievement level of their particular class" says Naik. In fact, last year a team of World Bank visited the district to review the education programme and found that the education standard in this poor district is completely below standard. This forced the SSA to conduct a survey to understand the class-wise achievement level of students and it was found that students who are in class five even don't recognize the alphabets properly. And that's for ninety-five per cent of the children.
"The chamars will have further poor level of understanding as because they don't have any study atmosphere in their homes", says Guru, Sudhpara's headmistress. Further, they need to work even when they come to school. "This is the reason, now a days, you find more chamar girls in schools than boys too", adds she. Ironically, out of all the school going children from this basti, most are girls, that's in contradiction to the normal trend in poor children's education. As per the Human Development Report 2004 for Orissa, the gender disparity favours the boys. In Chamarpara, however, the disparity favours the girls. However, this is no good news for these poor families.
Eleven year old Krushna Meher of Chamarpara, who is studying class two in the Daily Market NCLP School goes to hotels and lodges of the town in the mornings and evenings to polish shoes and earns about 25 to 30 rupees a day. Same is the case of Bhiku Meher studying class four and most of the others. Drinking habits of parents and decreasing income from shoe polish for the chamars has put them in a difficult situation. Complete lack of education and lack of any provisions for alternative income generation for the chamars is taking a heavy toll on the education of their own children. "Our business is going down by the day", says Rohidas. His son goes to the Beherapali NCLP School (as noted earlier), and also to the market to polish shoes.
Multiplicity of problems
This is the bleak situation for chamars' education in a district which is implementing special economic packages. How this happens under very noses of the district head quarters is a question that certainly stares at the policy makers. Poverty is considered as a major cause of the chamar children's illiteracy and for their taking to shoe polish. "We need to see that children are not engaged in such occupations and the elite section of the society should be more conscious regarding this", says Santhgopalan.
What about caste discrimination? 13 years ago after the Bhima Meher episode, teachers, parents and officials deny that there is caste discrimination against the chamars now in schools of Bolangir. Bhima's submission that he was punished by the teacher because he belonged to a lower caste is now considered a history even by his father. However, Rinki Rout's silence reveals otherwise. Rinki, who may be around 12, is from the Chamarpara and studies class three in the Gatesarobarpara. "She is among the three chamar girls from the same basti who are made to sit in a corner," admitted the head mistress Swain hesitantly. All other students are harijan students. A few chamar boys who study here don't come at all.
"Rinki is shy and does not speak. She does not have the quality to develop and the same with the other chamar girls", says the headmistress quickly, apparently to mete out a signal that she didn't mean to say there was 'caste discrimination' in force in her school. Rinki's silence however confirms that the Bhimas are no history and that 'special economic packages' and 'school buildings' are not sufficient enough to promote education among these backward communities. Umesh Purohit, State Convenor of the Campaign Against Child Labour (CACL) says, "Even programmes like NCLP is just taken as a class room programme which cannot solve the multiplicity of problems that the children of most backward communities like the chamars face." That sums it up.