Orphans are children who have no parents; who have nobody to care for them or love them. Sadly, our society too has many who may be called its orphans, whom we see around us but who remain ignored and neglected by everybody - the government, civil society organizations as well as media. These orphans of our society are the nomadic castes who are among the poorest and the most marginalized. Ironically, these people are highly visible, especially in cities: they beg, they hawk traditional medicines on roadsides, they break rocks, dig trenches to lay cables, pipelines and so on, they clear out rocky land for highways and high rises. Others of their ilk do impossible tricks with the help of their bulls, put up puppet shows and do rope tricks.
In the past, most of these castes earned a livelihood through their indigenous art and knowledge that was perfected and passed on from one generation to another. They took their talent, their knowledge of art and crafts far and wide, travelling from village to village and thus sustained themselves and their families. However, as modernization spread, inexorably changing the way of life of the people, the immense talent and knowledge of the nomadic castes became redundant. Their skills and artistry, their art, their talent, their creativity and the knowledge of medical ailments and their treatment that had been garnered over centuries and passed on for generations from parents to children and that had sustained them and their way of life now have no place in society. The people and their art have been overtaken by the times. While a negligible few among these people have moved with the times, got some education and settled down in urban and semi urban areas, most of these nomadic communities are struggling to survive, victimised by the caste system and alienated by their nomadic way of living.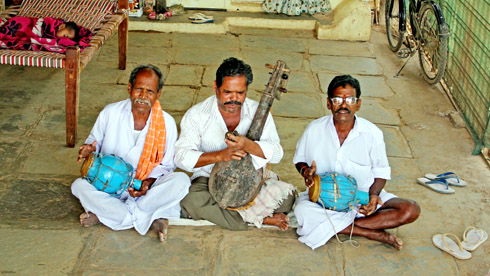 Budubukkula nomadic artistes. Pic:Savio Mendes
The result is that since they have no permanent home, they are not enrolled as voters nor do they have a ration card. Since these two things recognize them as citizens, the substantial numbers belonging to the nomadic castes have become the 'non-citizens' of our society.
Official data puts the population of nomadic and denotified tribes at 60 million in the country, comprising 0.7 per cent of the population. They belong to the 313 Nomadic Tribes and 198 Denotified Tribes. In Andhra Pradesh, as many as 28 major communities are identified as nomadic, and denotified tribes. Among these tribes, the plight of the Denotified Tribes is the worst. These tribes were regarded as prone to crime and the colonial rulers enacted the Criminal Tribes Act 1871 to keep a check on them. Under the Act, these communities were defined as 'addicted to systematic commission of non-bailable offences' such as theft. Since they were described as 'habitually criminal', restrictions on their movements were also imposed. Often, the adult men were forced to report to the local police on a regular basis. However, an independent India annulled the Act which was described by Nehru as a blot on the law books of a free India. These tribes were 'denotified' and since then they have been referred to as 'DNT'.
Some castes have settled down in towns and villages but they continue to depend on their traditional professions which barely allow them to eke out a livelihood. Those who have given up their profession have now taken to cleaning the city as rag-pickers or working as door-to-door garbage-collectors.

As many as 14 out of the 28 Nomadic Tribes in Andhra Pradesh, are 'DNT's. These include Boya, Bavuri, Dandasi, Lambadi, Pardhi, Paidi, Picchakuntla, Waddera, Yerukula, Relli, Yata, Yanadi and, Dasari. However, this new identity has not helped them much in living down the stigma for even today the police consider them as the first suspects in cases of crime and they are routinely rounded up and questioned whenever a crime takes place in the neighbourhood of where these people live in towns and cities.
Such is the plight of the nomadic castes that most of them have no permanent address or a home; their children don't attend school as their families don't stay in a place long enough for the children to attend school and develop an interest in studies. Besides, since parents earn a pittance, the children are put to work or made to beg to supplement the meagre earnings of the parents. These families have no access to a ration card as it requires a permanent address, which the nomadic castes don't have. Nor do they have voter id cards for the same reason. This means that they cannot access any government welfare programme. It also means that they are not in the reckoning of the political parties that normally woo people for their votes.
The backwardness of these communities lead to caste panchayats holding sway on the people. These panchayats discourage people from approaching police and continue to use superstitious methods to determine the innocence or guilt of a person. The primitive methods include holding a red-hot iron crowbar or dipping one's hand in hot oil, according to leaders of these communities. Some of these castes live in abject poverty: one of their leaders did not attend a roundtable meeting of nomadic castes organised in Hyderabad recently as part of the first attempts to organize themselves to bring about a change in their situation. The leader of the Mandula caste, people who hawk indigenous medicines, could not even afford the bus fare to attend the meeting.
Incidentally, this writer had the good fortune to be invited to this roundtable. The extent of their marginalization may be understood from the fact that in all my 30-odd years of newspaper reporting, this was the first meeting of nomadic castes I was attending. The reason was simple: it was the first roundtable organized by a few men who had the time, means and importantly, the awareness and concern to discuss the issues plaguing their communities and seek solutions.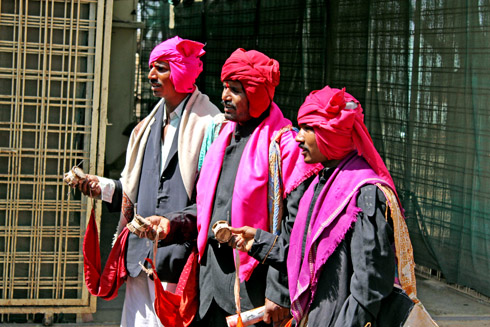 Nomadic people singing for a living. Pic:Savio Mendes
Odde Narendar, President of the Struggle Committee for the Rights of Nomadic Castes, the first ever organisation for nomadic castes in Hyderabad, believes that they have not moved with the times because no leader emerged from their ranks. They have no role model to emulate or any mentor to inspire and guide them, as the Dalits had in B R Ambedkar.
Leaders of the various nomadic castes pointed out how these castes lagged behind others in modern times such as Dalits and Lambadas. The latter have gone a long way in overcoming societal prejudices mainly because of leaders and mentors who showed the way in recent times. Traditionally castes like toddy tappers and Lambadas have had 'gurus' who guided their people. But the nomadic castes had none, either then or in the modern era. "Our people have no awareness of their rights. We have had no one to guide and inspire us, to give courage and strength to demand our due from the government," said Narendar.
In the pre-modern days, the nomadic castes had a role to play in society: each caste fulfilled a need; each caste had a social duty and role assigned to it. But modernization rendered redundant several of these tasks or roles. To cite a few examples: entertainers such as the Gangireddula people who trained bulls to do impossible tricks, or those like the Dommara whose women and children were trained to walk on the rope now have no takers; Mandula people who were itinerant dispensers of traditional cures and medicines, Picchakuntala people who held audiences in thrall with their story-telling and narration of local histories of people and events have been rendered jobless. Modernisation has destroyed these caste professions and made beggars of the people. According to the leaders of the nomadic castes, an overwhelming majority of beggars in all major cities across India are nomadic men, women and children.

Getting the Gangireddu or bull ready for display. Pic:Savio Mendes
To add to their woes, some of these castes have not yet been able to live down the negative image they acquired when the colonial rulers labelled them as criminals. Even today, people in urban areas are deeply suspicious of these castes and deny them even casual jobs, often forcing these people to lie about their caste. Some other tribes, such as those rearing pigs, have been victimised by the authorities. In the past few years, from 2005 onwards, whenever diseases like dengue, encephalitis or chikungunya have broken out affecting people on a large scale, pigs have been identified as the cause behind the spread of these diseases and hence, a threat to public health. Consequently, pig-rearing communities such as Yerukulas were hounded out of their villages and settlements in cities and in some instances, their only assets - their animals - were rounded up and killed.
What can be done to improve the lot of these nomadic people? They continue their way of life because they know of no other. Some castes and some groups have settled down in towns and villages but they continue to depend on their traditional professions which barely allow them to eke out a livelihood. Those who have given up their traditional profession have now taken to cleaning the city as rag-pickers or have managed to get regular earning through the municipal bodies of urban and semi-urban areas as garbage-collectors, going from house to house. Yet, the majority of the nomadic people remain outside the purview of any official scheme.
Their leaders believe that the Scheduled Castes, Scheduled Tribes and Backward Castes - whom they call the 'children of the government' - benefitted from special residential hostels, schools and colleges, financial corporations and housing corporations reserved for them. They too need such a helping hand. "Let the government hold our hand for just one generation; we will then put our past behind and make our future," said Narasimha, President of Gangireddula Caste Welfare Society who is now considered among the elite since he owns and runs a taxi in Hyderabad and whose son attends college, one of the very few Gangireddula children to have crossed that rubicon of college education.
For the government to wake up, perhaps the push has to come from political parties for which the nomadic castes have to emerge as a vote bank; as Narasimha said. "Only then the politicians will recognise us," he said. For which they would have to mobilize themselves, unite and show value as voters. They have taken the first step, a very small albeit important step of vocalizing their concerns and seeking redressal.
Postscript: How I discovered the existence of Nomadic Tribes
I am amazed at how some communities have lived literally in isolation although they are fairly visible physically. I was a press reporter for a little more than three decades, mostly reporting events and people of Andhra Pradesh. Yet, it was a casual attendance at a roundtable discussion that made me aware of the issues of the Gangireddula people and other nomadic and semi-nomadic tribes in the AP.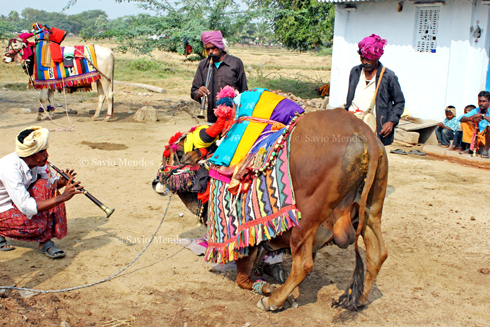 Gangireddula artistes making the bull do tricks. Pic:Savio Mendes
I had seen the Gangireddu, a bull that is trained to do various tricks and is believed to be auspicious, bringing good luck to those who respect and worship it, I knew of its significance since it had strong links to my home town of Nizamabad in the Telangana region of Andhra Pradesh. Around the Sankranti festival in AP which is a harvest festival, the Gangireddula people go with their bull which is decorated in brightly coloured clothes from house to house playing the shehnai to herald celebration and cheer. Women and men worship the bull which represents vitality and strength; they pray to the bull to bless them with plenty and continued prosperity of their family. One had heard, read and discussed the rehabilitation of the so-called criminal tribe of Yerukulas. But the Round Table discussion opened up a hitherto unknown world of neglect, poverty, discrimination and marginalisation of a large number of people of so many different castes.
In the three decades of news reporting that I have done, I travelled the length and breadth of AP, came across many people who deserved to be reported and indeed, reported and wrote extensively on the injustice, exploitation and suffering of the weakest in the society. Yet, I hadn't come across anybody, either in government or political circles, among social activists or the NGO community __ these are the usual sources for reporters who put us on to a 'story'__ who articulated the issues of the nomadic and semi-nomadic tribes. What does this mean? It simply means that the issues and concerns of these communities who lived on the margins of society, were not mainstreamed. They had not come to the notice of those who fight for the rights of the under-privileged.
Just like themselves, the problems of the nomadic and semi-nomadic communities too were marginalised among the large number of groups and organisations who make it their business to take up the issues of the marginalised people. The issue came to light only when a few individuals among these communities assumed leadership to demand their rights and organised small meetings in Hyderabad with the help of academics and activists from their own and similarly oppressed communities who had come up despite the prejudices and poverty.
As a reporter, I have seen abject poverty and heard many a heart-rending account of the wretched lives that the poor lead in our country. But the lives of the nomadic tribes seem to be apart from the rest. They are the invisible people of our land, existing in flesh and blood and yet not in the eyes of the rest of the society.
As I researched the issues of the nomadic and semi-nomadic tribes and interacted with them, several things began to fall in place for me. As a child growing up in a small town, even if one went to an elite school in Hyderabad, one would sometimes be abused or hear others being abused without understanding the meaning of the abuses hurled. A youngster who rarely stayed at home was called "pardesi," another name for the nomadic people who were at the bottom-most rung of the society. A rebellious girl would be termed "Jogudana," that is a Jogin. Any small task or negligible amount of anything or anything of low value would be dismissed as "Picchakuntla," another nomadic tribe. Any colourful dress would be sarcastically equated with the Gangireddula dress as comical or garish. Only now all of it falls into place: that the words of abuse were derogatory of the lifestyle and livelihood and poverty of the poorest of the poor; contemptuous of the so-called 'low' or 'untouchable' castes. They denoted the undesirability of the professions that they practised that had been imposed on them since times immemorial. Â
It seems like time has stood still for these nomadic castes: they continue to be unrecognised, demeaned, and shunned by mainstream society.