We all know at least one couple that is having a tough time conceiving a baby. It could be the couple that invested their early years in building their careers and later found out that one or both of them have a fertility issue, or the couple who have been trying for years but couldn't conceive because of a bad egg or sperm. Then there are couples who have tried in-vitro-fertilisation (IVF) and failed several times. These are all too familiar stories among the present generation.
But what do these families do to have offsprings who will carry forward the family name? Surrogacy seems to be the answer.
If you have questions on how surrogacy in India works then Baby Makers could be the book for you. But veteran journalist and author Gita Aravamudan's book is not a how-to on surrogacy. In fact, she presents surrogacy in its full glory -- warts and all.
The author tells you what goes on in the minds of women who decide to hire a surrogate, she lays bare the lives of those who decide to become surrogates. She talks about the multi-million dollar industry where everyone is deciding the price but no one appears to be deciding the industry standards.
Without overwhelming you, she tells you what Indian law says about surrogacy and explains why the country has emerged as a favourite for this booming industry. She does it with sensitivity and she does it without judging.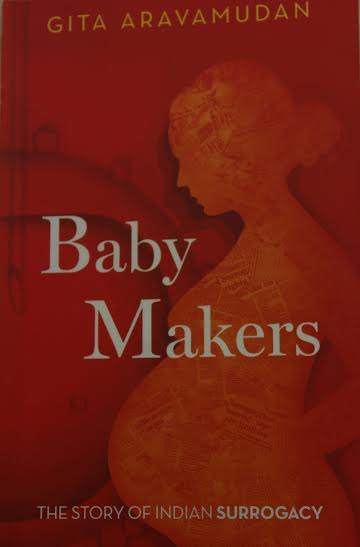 There are questions raised through out the book. In fact, the book starts off with questions. Sample these. Who is a mother? And why? What if a woman's womb is removed? Does that make her less of a woman? Can she be a mother without a womb? All loaded questions, answers to which unravel in gentle fashion through the next ten chapters, all through the narratives of the women – those who rent someone's womb as well as those who rent out their own.
In Gita's words, she wanted to investigate whether "it (surrogacy) was always exploitative or if it could also be a benign solution." It took her two years to research the subject. After reading up on surrogacy, she set about to meet the doctors and other healthcare workers at the fertility clinics, the legal experts, the intending parents and the surrogates.
Gita confesses that what she found out was a complete surprise. "No blacks and whites or even greys there. There were so many nuances involved... so many perspectives, so many human emotional, physical and moral issues," she says.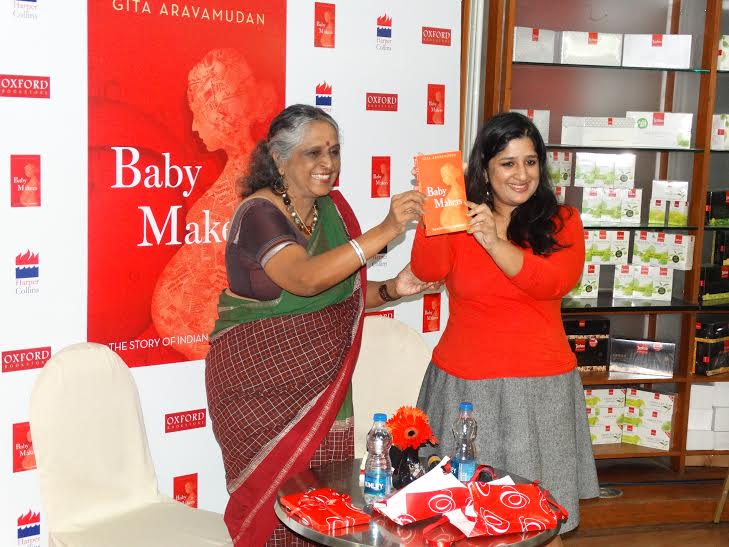 The book starts with the tale of Cathy, from New Jersey, USA who decides to hire a surrogate from India. Cathy's husband Dennis isn't very enthusiastic about the idea but he will come along. Through Cathy's journey to motherhood we learn about surrogate laws in the USA, we learn about Elizabeth Kane (a pseudonym), America's first legal surrogate and the reasons for India's emergence as a hub of surrogacy practice. Cathy's research shows that it will cost $80,000 to hire a surrogate in the US, it will cost only $30,000 including airfare.
We meet the couple Rajappa and Sharada who travel to Bangalore from Andhra Pradesh in search of a surrogate. Through their journey we learn the "business" of surrogacy and also the underhandedness that goes with it. Rajappa and Sharada are threatened that their contract will be rescinded if the payments schedule is not advanced. This, after they are told that their surrogate is pregnant.
Then we hear about Manisha and Bina, the two sisters from Nepal who decide to become surrogates. While Bina's is a happy story of a surrogate who manages to make a good living, Manisha's is a terrifying illustration of things that can go wrong with the process. Manisha's eggs are harvested more often than what is medically stipulated, leading to serious adverse effects on her health. This account tells you how little women know about their own bodies and how easily they can be exploited.
The narratives also convey the yearning of a woman who simply wants to hold her baby in her arms and her feeble attempts to make a connection with the surrogate. But do surrogates get emotionally attached to the babies? How do they cope with a society that does not fully understand surrogacy? How easy is it for them to forget this experience and move on as if nothing happened? Sumi, Disha, Mona, Shahnaz tell you their stories.
The story of Meena and Ram unveils the emotional drama in a family that decides to opt for surrogacy. Through them we also discover that many couples that opt for surrogacy keep it a secret from their family, both immediate and extended. The deceit even includes a fake pregnant belly!
Gujarat is the hub for artificial pregnant bellies where they are available for much cheaper than in western markets! Evidently, there are many spin offs of this multi-million dollar business that one would not even think of.
In the last chapter of the book, titled "Virgin births and womb banks," Gita discusses the possibility of sexless reproduction aided by cutting edge technology, of an era where embryos will be incubated and nurtured in artificial wombs. It is a very real possibility that a woman's womb and eggs that have acquired commercial value may be rendered obsolete with the help of science.
Would that change the narrative? Will that make women less vulnerable to the pressures of bearing an offspring? Gita asks whether artificial wombs may become a great biological and social equaliser.
Gita is not new to investigative writing. Her earlier book Disappearing Daughters, published in 2007 dealt with female foeticide. But Baby Makers is her first attempt at creative non-fiction. Gita confesses that the genre was tough. She explains why she decided to use this format.
"I wanted my book to be readable and accessible and more importantly based on true life experiences," she says. The fact that most of the people she spoke to wanted to remain anonymous also made her decide on this format.
Gita's advice to journalists attempting investigative reports:
Be thorough. Don't stint on effort. Don't fudge information. Put all the material you have collected together and analyse it before you start writing, so you can make the connections properly for yourself before you try to communicate it to a larger audience. Whenever you find new questions to ask, don't hesitate to ask them and get your information. Field work is most important because without it, your report becomes a faceless document.
But even as she sticks to the genre, Gita deftly weaves in hard facts into the book. There are two streams, one with the narratives and another stream with just the facts. The two merge seamlessly and make it an easy read.
The book is a great example of good old investigative journalism presented as it should be – crisp, engaging and informative, without any frills.