Nearly a month and a half since the monsoon flood created havoc in many areas of Kamrup district's south bank have lapsed when, on 10 October, a 'boat clinic' is seen making its second trip during the period for a general health check-up of people living in Koltoli Char of the district, about 60 km off Guwahati. This char has a population of around 1200.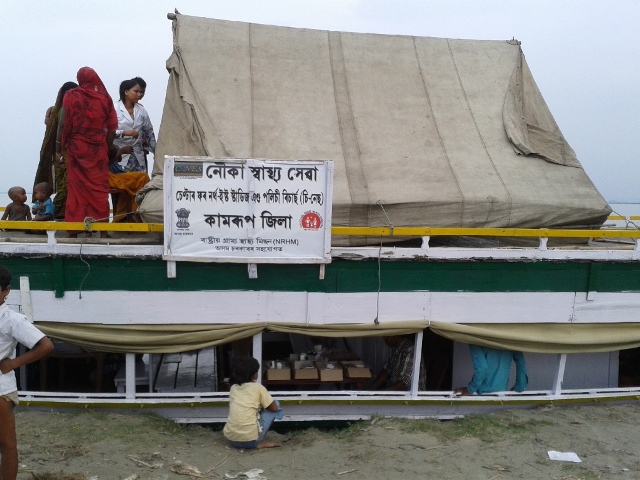 The boat clinic Is just what its name suggests. Equipped with a vaccine kit, necessary medicines for basic health check, a laboratory kit to collect blood samples (whenever necessary), a small kitchen, life-saving jackets, a handful of umbrellas, and a bicycle, it completes a one and half hour-long journey from the Chaygaon point of the river Brahmaputra to reach the char. The team includes two doctors, three nurses, a pharmacist and a laboratory technician – all employed through the National Rural Health Mission (NRHM), along with three crew members and two community workers.
Umbrellas are important, as the team has to walk a long way to reach the lone public assembly site in the char - the primary school. As the boat clinic reaches the char, the community workers get busy in carrying the medical kits on the bicycle to the school campus. The char people, mostly elderly persons, womenfolk and children have been waiting for the team, as community workers had informed them about the visit of the team earlier.
The Eid-ul-zuha festival has just ended, and the residents of Koltoli, still in festive mood, have already arrived at the camp in their new attires, purchased during the festival. The health-camp starts with an art competition among the school-children, a general health-awareness camp with hand-wash training and a lecture delivered by Dr. Balanuj Majumdar, District Medical Officer, on how to maintain health and hygiene using locally available resources.
As soon as the prize distribution ceremony for the competition is over, the school hall, a newly constructed tin-roof structure, immediately turns into a temporary hospital for the purpose.
"The boat clinic has been providing all basic health support and has become an essential service for us. It visits us regularly, once every month. Last month when the flood-water had submerged the char, they had to visit us on a country boat. They educated us on how to resist post-flood health-hazards such as outbreak of diarrhoea and other water-borne diseases," says Nur Hussain Ali, a char dweller.
By 2.30 pm, around 90 patients have been examined. The ASHA worker of the char, who assists the team during the camp, also avers that the boat clinic is the only health delivery system available in the char. In case of emergencies or critical situations, char-dwellers have to go to the Garaimari block hospital, which takes a good 45 minutes to reach during high floods and almost double the time during low waters.
The boat clinics provide basic care. "Elderly persons come to us to get their blood pressure and diabetes levels checked. The service has been extremely successful in addressing general health issues including malnutrition among children, worms and minor wounds that often lead to septicaemia, cough and cold and others. Such early interventions have an impact on reducing health hazards to a larger extent," says Gunajit Deka, another doctor of the team.
The journey of the boat clinics
The boat clinic service – a unique idea of providing basic health care services to over three million people living in isolation in over 2,500 chars (islands, isles or islets) created by the mighty river Brahmaputra – is a brainchild of Sanjoy Hazarika, Managing Trustee of the Center for North-east Studies and Policy Research (C-NES), a not-for profit organization, who initiated it nearly nine years ago in 2005.
Chars and saporis are unique geographical formations of sandy landmass, of varied sizes and shapes, on the mighty river Brahmaputra that flows through a 760-kilometre east-west stretch from Sadiya in Upper Assam to lower Assam's Dhubri on Assam-Bangladesh border. In the upper reaches these chars are inhabited by a large number of tribal people belonging to the Mising tribe and indigenous Assamese people, while in the lower reaches, these lands are primarily inhabited by immigrant Muslim settlers.
Assam has 2,251 char villages. Most of the char lands are temporary in nature, often prone to severe flood and frequent erosion, as their formation depends on the shifting courses of the Brahmaputra. This implies impermanent, volatile existences for the people living in these areas. Char population comprises nearly 8 per cent of the total population in Assam, with a huge 67.88 per cent among them being 'below poverty line'.
Geographically isolated, most of these people have to live without basic services including health and education infrastructure, road network, electricity etc. Boats are the only means of communication to and from the char. But despite all such barriers, the density of population in these areas is as high as 690 per square kilometre against the state average of 398, revealing gross negligence on reproductive health and family planning.
"My dream of transforming the lives of these rural people, who have been forced to live without basic healthcare service, saw the light of realisation when a model of AKHA, the boat clinic, won an award in the World Bank's India Development Marketplace 2004 competition," says Hazarika, a famed journalist, columnist, author and documentary maker.
"The award money was spent entirely on constructing the first boat clinic, 22 metres long and four meters wide, having an OPD, laboratory, cabins for medical staff, medicine chest, kitchen, toilets, crew quarters, and a general store. This was completed in 2005. That was the kick-start for a "Ship of Hope in a Valley of Flood," he adds.The initiative instantly received support from the district health department, and also aid from UNICEF.
While the project started with a single boat-clinic "Akha" (meaning hope in Assamese) to serve preliminary health needs of char dwellers in Dibrugarh district in upper Assam, it has since come a long way to address healthcare issues among the poor and needy in the chars, growing to include 15 such boat-clinics in 13 districts of the state. Each boat clinic has a team of two doctors, three nurses, one pharmacist, one laboratory technician, three crew members in addition to two community workers.
Through successful collaboration with the central government's flagship National Rural Health Programme (NRHM) since 2007 (as a public-private- partnership), the initiative has played a crucial role in providing health services such as immunization and vaccination, ante-natal and post natal care for pregnant women, malaria intervention, Japanese Encephalitis intervention, apart from general health check-ups.
Of late, a mandatory health awareness programme prior to each health-camp has also been incorporated in the programme, which deals with subjects such as reproductive health, family planning, curative care, childcare, medical and sanitation awareness etc.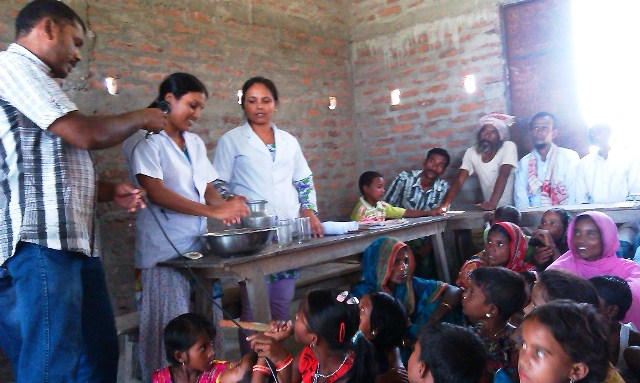 "After incorporating the health awareness programme, we have seen an increased level of awareness regarding family planning and reproductive health in addition to a growing awareness on general health among the char-dwellers, which is very crucial. We visit the different chars over at least 22 days in a month and try to make at least one visit to each char every month," says Hiranya Deka, District Programme Officer, C-NES in Kamrup district.
The mission has certainly seen a long journey, but the experience has neither been pleasant nor easy all the time. Ashok Rao, Programme manager of C-NES reveals that in June 2013, when one of these boats with the team-members went out for a week-long service in Upper Assam's Guijan point of Tinsukia District, a flash-flood marooned them in a char in the interiors, where they were without any communication for five days.
The situation was horrific as two nurses in the team were pregnant. There was no trace of the boat in that high flood situation. It was only after five days that they were traced somehow and finally rescued by a helicopter with the help of the district administration. But the impact of boat clinics in these remote, economically marginalised regions makes these risks worthwhile.