Pragya Singh was just another happily married woman on 18 April 2006. She was travelling from Varanasi to Delhi in AC three-tier on 30 April 2006 to attend her campus placement interview. Around 2 am she woke up with a burning sensation in her body. Opening her eyes, she could see fumes coming out of her body. Unable to grasp what had happened, she jumped off the third berth, crying for help. People in and around her bogie tried to help her, but no one in the crowd could grasp what exactly was wrong with her from her burnt clothes.
Pragya herself thought she must have contracted some rare disease on the train. But fortunately for her, there was a doctor in the next bogie who pronounced that this was no disease or ordinary burn injury and that she had been attacked with acid. The doctor advised her fellow passengers to bathe her with plenty of water. Two passengers were generous enough to escort her to the hospital at Etawah where the train stopped after two hours. The next two days she was unconscious and her only memory is of waking up in the ICU at Safdarjung Hospital, Delhi.
Over the next two years, Pragya had to undergo nine reconstructive/plastic surgeries and remain without a hairline; she lost vision in her left eye and still has problems with her right eye; she lost her right ear completely and is struggling to keep the hole of the right pinna from contracting; her left arm is burnt and more than half her back and chest is scalded.  'I am a living corpse,' says she.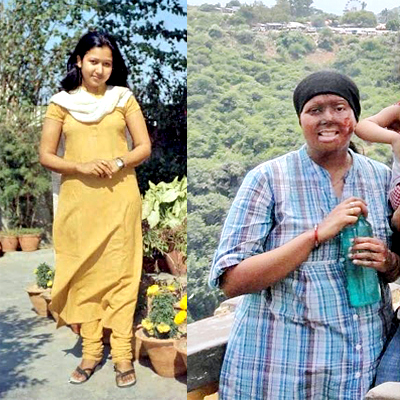 Pragya, before and after the attack on her. Pic: Pragya Singh
 The culprit
Pragya had received a marriage proposal from a distant relative before she was to be married to Sanjay Singh. But she, as well as her parents, turned down the proposal. He threatened to ruin her life, but Pragya was by then happily married to Sanjay Singh. It was the scorned suitor, who upset by her outright rejection, brazenly poured acid on Pragya. He was caught at Etawah station and they put him in jail. He served prison for one and a half years after which his financially sound family managed to get him out on bail. They also allegedly bribed the public prosecutor with a lakh of rupees and the judge handling Pragya's case at the Allahabad High Court. The judgment came out in 2008 and the accused served only three years in jail to complete his four-and-half-year jail sentence.
According to Pragya, of course, no punishment would have been enough to quell the pain and shame that she went through. In desperate moments, she has felt that attacking the accused with acid could only give her peace of mind. But then mandates of society and civilization take over and good sense prevails.
Pragya's story
Pragya Singh is from Varanasi. She, being the eldest, had a responsibility towards her family. Ambitious by nature, she graduated in Economics from Banaras Hindu University and completed Post Graduation in Fashion Management from Pearl Academy of Fashion in Delhi. She was proud of her creative side and had woven big dreams for herself. "I wanted to be something big…do something worth living for," she says with moist eyes today, but the gruesome incident brought a halt to her very existence.
What angers her the most today is that she lost her career in the incident. She didn't care so much for beauty, but she badly wanted to provide for her family. With nine surgeries every alternate month and two miscarriages before her first child, her hopes and plans were shattered.
During the time her surgeries were on, she refused to step out of the house. She never walked across the four walls of her house. But after the complex surgeries, her face is reconstructed drastically, especially her eyelids.
In time, however, she has learned to face the monstrous fact. She says "There are two types of people with different attitudes: one who follow the grumbling path and the other who follow the grateful path, and I have learnt to see the glass half-full."
While Pragya thanks doctors at Shankara Netralaya, Chennai for expertise and willingness to perform the surgery, she is far from happy about the efficiency of doctors and hospitals in general, as far as treating patients with higher-level burn injuries is concerned. She had a terrible time shuttling between hospitals and incompetent plastic surgeons. According to her, only Safdarjung Hospital offers a specialized 'burn unit;' Hiranandani Hospital, Bombay and Manipal Hospital, Bangalore could not cope up with her exigencies.
The ordeal of the victim
Most girls who are attacked are teenagers or just fresh graduates. They lack the knowledge and support system to help them through the trauma. Most of them are also not aware of their legal rights. A majority among them hails from middle-class families and can't afford the treatment and those complex surgeries.


• Dissolving the burns

Once the skin comes in contact with acid, the acid starts to penetrate into the skin; however small the patch of contact might be to begin with, the acid starts spreading out in the first 24-48 hours. So the skin needs first aid from stopping the penetration to some extent in the first hour.
The contraction of the skin is an upheaval battle to face. The doctors had to insert a small pipe into her right ear and avoid it from shutting. She has lost vision to her left eye and there's a continuous discharge from the eye whenever it comes in contact with dust. She has to clean the eye every ten minutes regardless of where she is. She cannot go without the eye ointment/drops/blinking exercise even for a few hours as the skin might contract and the socket could close up.
Her family has ended up spending around fifty lakh for her medical treatment. The state didn't compensate her with a single penny. Her parents couldn't afford fighting the legal battle, as her advocate charged Rs 20000 per sitting. So eventually, they gave up hope of acquiring justice someday.
"I expected the government to help victims like me. But, to my dismay, I found that after the ordeal both I and my parents could not muster the energy to question the laxity and apathy of authorities," says she.
Pragya has spent much of her time over the years to research the position of victim-survivors. She's in touch with many of them and they share a very special bond. She chuckles as she says, "We also share our personal beauty tips of various kinds that help our skin."
According to her, most girls who are attacked are teenagers or just fresh graduates. They lack the knowledge and support system to help them through the trauma. Most of them are also not aware of their legal rights. A majority among them hails from middle-class families and can't afford the treatment and those complex surgeries. A 10X10-cm gel sheet, used to cool the skin and critical for victims of such attacks,  itself costs two thousand rupees, she points out.
As stated by the Campaign and Struggle Against Acid Attacks on Women (CSAAW) Karnataka survey in 2006, there are 165 victim-survivors in Karnataka alone, this being the only state with compiled data on victim-survivors.
Under the state victim compensation scheme here, the victims get Rupees 2 lakh but no medical benefits. This doesn't even cut close to the expenses the victims have to incur. Moreover, the 2006 landmark judgment passed by the Karnataka High Court in Hasina Husain's case has to be treated as a precedent, wherein the accused is to undergo life imprisonment when any of the organs of the victim is affected; in such cases, the victim is also entitled to compensation of Rs 10 lakh.
Working for the future
The CSAAAW campaign started in 2006 and Pragya has associated herself with this campaign ever since. Through this campaign, she got in touch with seven victims in and around Bangalore and her primary aim is to help rehabilitate them.  She's even trying to formulate a plan, based on which victims can take up jobs like stitching, embroidery etc. and earn a decent income to become self-reliant and independent. She is trying to generate a corpus fund by raising as much help from the people around. She has tried to achieve this with her CSAAW team by uploading the profiles of the survivors on the crowdfunding website Indiegogo. She also counsels the girls on health-related advice, the surgeries they should opt for, or in general on life post such an attack. Having gone through the agony of it all, Pragya wants to be the backbone in their support system.
Pragya's stance on the regularization of acid sale is staunch.She believes the government should prohibit sale of acid in local markets. Only licensed dealers should sell concentrated acid such as nitric acid, sulphuric acid and hydrochloric acid. The buyers should be mandated to produce proof of identity to the dealers in every instance. "With each passing day without regulation in acid sale, innocent girls are paying a price with their disfigured faces and affected lives. No compensation can be paid for a beautiful face. It's priceless! So no more acid attacks. I don't want to see any more melted faces. We must do something or else it will be too late," says Pragya animatedly. According to her, there is absolutely no need for concentrated acids to be sold in markets. Regular domestic consumers should also be given alternatives to the usage of acid.
Pragya also feels that the government must accept some responsibility and proposes a three-step model. Firstly, the government should offer complete medical treatment including medication; second, it should cover legal expenses for the victim-survivors under the free legal-aid program and finally, it must provide an adequate rehabilitation process, wherein survivors are provided with suitable alternative employment. Most acid-attack victims are rejected jobs because they have a disfigured face even as they are struggling to pay off the debts incurred due to treatment.
Social integration
Pragya is not an asocial person, but circumstances have turned her into one. Her relatives have shunned her. She isn't invited to important occasions celebrated by her remote family. She was not invited even to her cousin's wedding. Wherever she goes, people question her about the way she looks or how it all occurred. Children are scared of her and cry at her sight. A normal social life is what she yearns for, but it appears to be a distant dream.
People play an important role in an acid attack survivor's life. It's important to help these victims along every step of the way. Instead of ignoring your child's unease in the presence of survivors, one needs to prepare them to accept the sight of these victims. Instead of just gaping at a victim when she enters a restaurant, one needs to make the stay comfortable.
"Adversities help you realize your true companions, people who stand by you and embrace you for who you are and be a continuous pillar of support. For me, one of them has been my husband. At times, I am put off or dejected by people's responses, but he always maintains a perfect balance and holds me reassuringly and gives a warm smile to the passer-by," says Pragya.
Today, Pragya lives in Bangalore with her husband and two daughters Aishi and Tishya. Her courage and strength to move on with her life could become an inspiration for the survivors of such heinous attacks. She's prepared herself for the day when her daughters are going to question her physical appearance. She has no qualms in life and she hates to wallow in self-pity or loathing. Her only message to other victim-survivors is to stay strong, never lose faith in themselves and become women of substance.