Post the Lok Sabha election results in May 2014, the Aam Aadmi Party (AAP), which surprised everyone by winning 28 seats in its debut election in Delhi in December 2013, had lost its relevance.
At this juncture, it was expected that Delhi would go to polls soon and AAP's existence would be reduced to rubble. However, elections were delayed, and while BJP was busy basking in its Lok Sabha glory and the subsequent successes in Haryana and Maharashtra, AAP went back to the streets and initiated the Delhi Dialogue program, which focused on numerous one-on-one interactions as well as debates with general masses on the various issues concerning citizens.
This formed the base for AAP's 70 point manifesto for the Delhi elections which was on the face of it, extremely comprehensive. At first glance, the problems of every section of society seem to have been covered and deliberated upon. And yet for the many migrant casual labourers in the city and its neighbourhood, the new government's promises do not hold much hope.
Take the case of 44-year-old Anil Kumar, who hangs around near Ashram Chowk in South-East Delhi for 4-5 hours every day in the hope that someone will provide him some work, enabling him to make ends meet for himself and his family. Kumar is just one of the many labourers belonging to varying age groups who loiter at the Chowk in their quest for daily work.
Where dreams turn sour
Originally from Rajapur Village, Bhadohi district, Uttar Pradesh, Kumar has had a rough past. To support his family, he dropped out from school when he was in the fifth standard and started weaving carpets from an early age, which required him to work 12-13 hours a day. Bhadohi is known as the carpet city as it is home to the largest hand-knotted carpet weaving industry hubs in South Asia. Cases of child labour and forced slavery are rampant, though Kumar does not recall being forced into it.
Asked about his childhood, he says, "You must be knowing about the widespread poverty in UP. I liked going to school but since we didn't have money, I started working from an early age. But there were many days when we didn't have money to buy food and hence we all slept hungry".
After spending 13 long years weaving carpets, however, he realised that the job demanded too much but paid little. Being from UP, he always believed that Delhi was the place to be if one wanted to become financially stable. But even after reaching the capital, after a seven-year intermediate stint in Goa, things did not look rosy for Kumar.
Cheated by a big contractor named Bablu, Kumar tried his hand at running flower shops at various locations in Delhi, where he was regularly heckled by policemen for bribes. Disillusioned and dejected, he decided to return to the life of daily wage labour again. With a heavy voice he said "No one wants to live like this but I do not have any option. What else will I do?"
Tales such as this are not rare to come by. As Kumar himself points out, most daily labourers do not get more then 14-15 days of work (Rs 300/day) in a month, which means that they do not earn more than Rs 4500-4700/month. "The issue is that there are so many labourers but very little work. At Ashram, there are at least 35-40 labourers who come searching for work every day.
With employment difficult to secure, shelter is precarious too. The Delhi Urban Shelter Improvement Board manages 272 night shelters called "Rain Basera" at various locations in Delhi in collaboration with NGOs. The Baseras collectively house around 6000 people every day. Kumar pays Rs 5 a night to sleep at the Basera in Sarai Kale Khan, a place notable for its inter-state bus terminal, three kilometers away from Ashram Chowk.
Kumar says "The Basera is a shelter for homeless people and daily labourers like me, who come from far-away places and do not have any house. Facilities at the Basera are pathetic, but I have no other option." He adds that this is the plight of almost every labourer with whom he works or stays with at the Basera.
Kumar has now given up on his dream to live and stay in Delhi happily. "I plan to go back to my village in the next two months. I imagined that I would have a good life in Delhi and earn enough for me and my family, but it is not working for me anymore. My village is much better than this. At least, my family will be there to support me in times of need and distress."
Who will address their woes?
Kumar's tale and of others like him takes one back to the promises made by the AAP government over regularisation of workers in the unorganised sector.
Point 48 of the AAP manifesto placed emphasis on social security for labour, promising that the party would "implement a flexible and fair labour policy. Our policy will ensure social security for workers in the unorganized sector; regulate wages, services and working hours of domestic workers and improve work conditions of rag pickers. Local Mohalla Sabhas will provide licences to street vendors and hawkers in designated spaces."
Later in the document, Point 66 assured that "AAP will end contractualisation in "safai karamchari" posts and will regularize existing employees. Workers who enter sewers will be provided with protective gear, masks and appropriate equipment. Like fire fighters, they will receive medical insurance. To help in their career advancement, safai karamcharis will be provided assistance in education and training. On the death of a "safai karamchari" on duty, Rs. 50 lakh will be given to the bereaved family."
While these manifesto points initially raised hope, a deeper exploration shows that they are in fact quite open ended, with no specific focus on labourers like Kumar. The primary difference between such workers and contractual workers mentioned in the manifesto points is that of continuity. Contractual workers aren't entitled to any job benefits, but since they are employed by corporations and government bodies, they have a regular flow of work and money.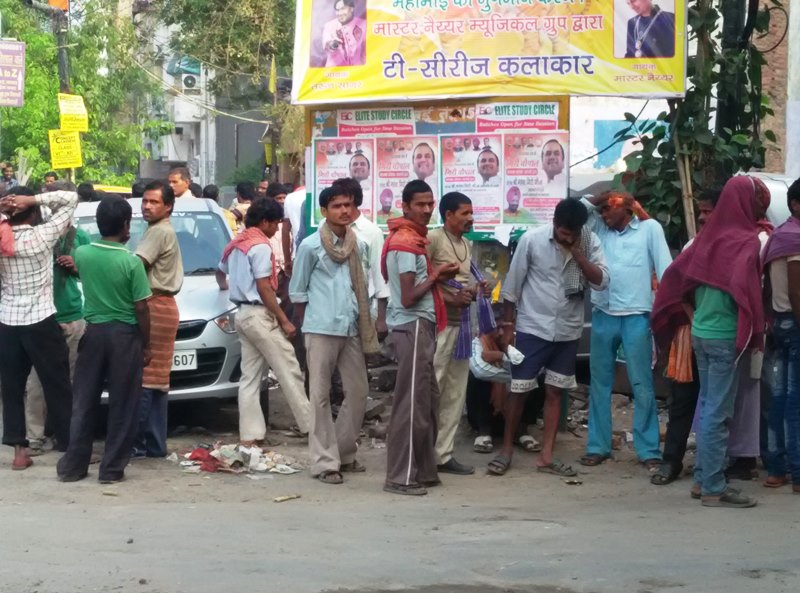 This leaves a large population of daily wage earners outside the social security net, with unassured employment and income. Rwitwika Bhattacharya, Founder, Swaniti Initiative, and a former World Bank professional, who has worked extensively on labour economics and policies, explains, "Employment/job creation is the result of a confluence of factors and one of the major assumptions we make is that our work force has the labour skills to be absorbed. One of the most significant issues is that we have a lot of people in rural or peri-urban areas who have marginal or no skills, and hence it is difficult for them to get jobs. The result is that we have tremendous migration happening from these areas to the cities in search of work."
This naturally brings us to the question, what can be done to improve the lot of these workers? The need for creation of rural employment to stem the tide of migration is important, but any prescient individual or authority will acknowledge the equal, if not greater, importance of devising employment policies for the urban poor and migrant population. A UN-backed report estimates the population in Indian towns and cities to reach 600 million by 2031, driving home yet again the importance of addressing the concerns over absorption of and social security for migrant workers in the cities.
Coming back to Delhi, the AAP government's commitment to development and openness to new ideas has been partially borne out by initiatives such as India's first e-ration card service, recently launched by the chief minister, Arvind Kejriwal.
But if it really wishes to live up to its promises towards the 'aam aadmi' in general and workers in the unorganised sector in particular, it must come up with a better plan to provide regular employment and better working and living conditions for the many daily wage earners in the city.
Bhattacharya adds, "The larger issue is that daily wage labourers aren't unionised; neither do they bring votes for election candidates. Since these labourers are mainly migrants and do not get to vote in the cities they work in, their voices are barely heard. A good solution would be to unionise these labourers, which will enable them to fight for their rights and compel politicians to take them seriously."