Nagpur - Shankar Jaiswal, 45, could have been alive today.
A month ago, an apparently depressed Shankar burnt himself over 30 per cent when his wife had gone to work as domestic help at nearby residential area.
A partially burnt Shankar lay immobilized and in an unbearable pain in their decrepit hut for 15 days without medical attention. Gangubai, his hapless wife, divided her time between her work and attending to her ailing husband.

Gangubai with her daughter Roshni. Pic: Jaideep Hardikar.
Last week, Shankar painfully succumbed to his burns. The following day, Damodar Kohale, 28, from the same 'basti' immolated himself to death. Kohale, also, was landless, who feared being thrown out of his plains in the face of a project.
Shivangaon - a village of 10,000 people within the Nagpur city limits, opposing its acquisition for the proposed multi-modal international cargo hub, tooth and nail - is steadily losing out hope and life. Alas, its land is more important for the government and its acquiring arms than the life that exists in this historic village.
Shivangaon is being acquired for the expansion of the international airport by the government at the behest of its subsidiary the Maharashtra Airport Development Company (MADC). The MADC is the nodal agency to implement MIHAN, the Multimodal International Hub and Airport at Nagpur. MADC would be a dominant partner in a soon-to-be-proposed joint venture company (JVC) with the Airports Authority of India (AAI) that owns the Nagpur airport today.
While the Vilasrao Deshmukh-government is asking the private sector not to go about acquiring land for projects if the farmers are opposed to it, Shivangaon brings to fore the hypocritical face of the state government and its undertaking. The government is offering below market-rate compensation to villagers for their land. Compensation being offered is between Rs.1 lakh and Rs.10 lakhs per acre. Market rates, say villagers, is Rs.1 crore per acre . This has left little choice for the farmers - either bow out or die.
Shivangaon (land and houses) with over 1500 hectares is being acquired for expansion of airport.
Compensation awarded: Between Rs.1 lakh and Rs.10 lakhs per acre. Market rates, say villagers, is Rs.1 crore per acre .
Shivangaon villagers, including women, had tonsured their heads in protest last year.


• Shivangaon's milk-economy tumbling
• I need land, not money

"I had no money for his treatment," laments an agonized Gangubai, who has two daughters, seven and 15 years of age. The penniless neighbourers, landless and perilously close to that extreme step themselves, could not extend any help to her. "My income," she says, "is so meager that I can't buy enough food to feed my children. How could I take my husband to a doctor and buy medicines?"
Tens of Shivangaon's women, who once farmed on their land, now work as the domestic maids in the city signifying a downward slide in their social status.
Gangubai did everything she could - but in the absence of money or means, she could not save her husband. Shankar had perhaps developed gangrene too, if the neighbourers' account of his state is any indication. He was desperate to die.
Shankar tried committing suicide to end his agony, but it was his agony that eventually claimed his life. He was out of work for two years, but the struggle to keep the fire in the kitchen burning began eight years ago, says his elder brother Laxman. He worked as a guard at a small local industrial unit, but has been out of work for six months ever since the company went broke and closed the unit.
Just a few days into mourning, Gangubai is concerned about the bigger problem unfolding before the family. "We have nothing to eat today," she quietly reveals, as her younger daughter, Roshni, 7, silently looks at her, reflecting the distress.
A few houses apart, Damodar's 65-year-old mother Saraswati and wife Surekha have frozen to silence. What's the future of her grandchildren, Saraswati asks.
Early October has seen four villagers - two of them landowners - take extreme step in the village. The protestors fear growing desperation is showing up, with about ten out-of-work farm labourers ending themselves in last one year or so.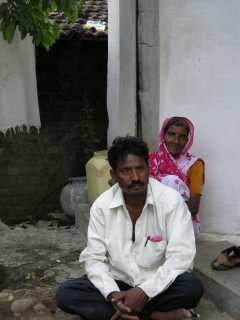 Damodar Kohale's cousin and mother Saraswatibai. Pic: Jaideep Hardikar.
Almost all the local leaders pay lip sympathy to oustees, but side with the project that they feel "would change the face of the city and the region."
The prospect of displacement wrecked this village a decade ago, when the cargo hub project sprung up on the political agenda. While the project still remains on the paper, much water has flown through with regard to the land acquisition.
Amongst the first to wilt, are the poorest landless and migrants who came here decades ago. Like the Jaiswals, whose forefathers migrated from Uttar Pradesh to Shivangaon in search of work and got absorbed as farm guards in local economy.
Shankar represented the third generation. He'd work as security guard at orange orchards until the entire village-land got ceded to the ambitious project two years ago. He did not migrate out as others did. And paid the price with his life.
Landless people fear they would be rendered homeless after being rendered jobless and that, in the rehabilitation package they would get nothing.
What the MADC expects of the Centre is to handover this airport to the new JVC, in which it would have 51 per cent equity, for setting up the international cargo and passenger hub at Nagpur. The government has already acquired the land of Shivangaon and has awarded compensation that the villagers have refused. They say the package is too meagre. They won't move unless their demands are met.
Shivangaon expects compensation for land and homes commensurate with the prevailing market rates, and an alternative to their roaring dairy business, orange orchards, poultry and goat farming - an economy that is worth several crores.
"The prevailing market rate is Rs 1 crore per acre; we expect a minimum Rs 50 lakh," says Baba Dawre, a powerful native leading the protests. The government has rejected the demand as "unviable". The protesters have refused the rewards. "The compensation offered to us," they hold determinedly, "is unviable too."